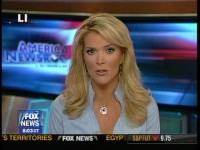 It's odd to see chain-email forwards in 2012; they seem like a relic of the late '90s, when email was still the best way to share information with a mass of people one knew (as opposed to, say, Facebook in 2012). More often than not, they seemed intent on propagating something, whether it was a belief, a superstition or an awful joke that parents find funny.
We found ourselves on the receiving end of one today, however, that struck a chord of curiosity from one person who sent it on.
The email, which came with the subject line "FW: Eye Candy? Not." extols the educations and qualifications of FOX (FOXA) News's female on-air talent. It begins as follows:
Impressive backgrounds for Fox News' women reporters…

Check out these "Dumb Gals" on FOX News.

For the past 10 years FOX News has had higher ratings and the largest audience numbers (for news and business/political "talk" programs) than all of the other TV and Cable news channels combined, including CNN, MSNBC, ABC, NBC and CBS!

Some folks who are "bitter" about this claim that FOX's higher ratings are only because FOX purposely hires a lot of female "reporters" who do nothing but sit around in short skirts and merely "read everything off of a TelePrompTer."

Bottom line: The next time you hear someone criticizing FOX News for supposedly having a "bunch of dumb gals" doing the news, etc. that are only on the tube to serve as "eye candy" to catch the attention of stupid, right-wing men, etc. well don't be so quick to jump on that left-wing band-wagon!

Still not a believer? Well, scroll down and let the FOX ladies speak for themselves!
It's boilerplate email-forward type stuff, but it then goes on to briefly list the names and credentials (with photos) of "Fox News' women reporters."
We received the email by way of someone fairly close with Fox News, who's already received it multiple times from people having nothing to do with the network: In other words, it's making the rounds, whatever those rounds are, and it's going some degree of old-school viral.
But they correctly point out some omissions from the email: Lauren Green, an African-American woman who's worked as Fox News's on-air religion correspondent; Santita Jackson, one of the few African-American women working as on-air talent at Fox News (who also happens to be Rev. Jesse Jackson's daughter); Jemhu Green, also an African-American woman working at Fox News (who once called Tucker Carlson a "bow-tied white boy"); and Sally Kohn, an openly gay former community organizer whose partner was once the executive director of the Environmental Grantmakers Association.
This isn't the first place the women of Fox News have been quite literally "whitewashed" by their fans. Even the "Girls of Fox News and Fox Business" fansite—yes, it exists—omits most of the African-American Fox News contributors.
A screengrab of part of the email is at the end of this post. We're curious: Have you seen it? Who started this email? What prompted it? And why, with such careful diligence put toward comprehensively listing these women, were the omissions made? If you know anything about it, we'd love to hear it.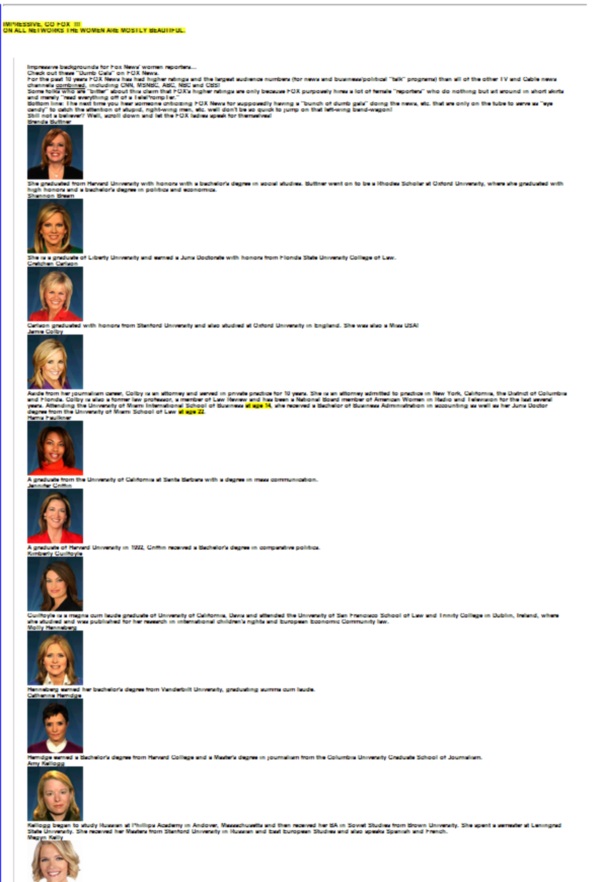 fkamer@observer.com | @weareyourfek