In the event you haven't heard, there's a big hullabaloo over who's going to be the next President of this subjectively important office, and New York Times readers are on it.Yes, the President of Yale University, one Richard C. Levin, will be stepping down from his post at the end of the school year, giving the world and Yale a decent amount of time to find their next head administrator. The Times' resident Yale expert, Richard Perez-Pena—suspected of an angry fixation on the university by at least one blogger—reported mostly to the outgoing president's credit:
Dr. Levin, 65, said in an interview that he simply felt it was time to move on, that he planned to take a yearlong sabbatical to write a book and that he did not know what he would do after that.
The report is fascinating in the well-developed picture it delivers of a university president who was mostly—mostly—untainted by scandal. Even more fascinating is the fixation its readers have had with it.
The story, which went up earlier this afternoon, is a hit with readers. It's the most emailed (read: passed around) and the second-most viewed story right now in the NY/Region section: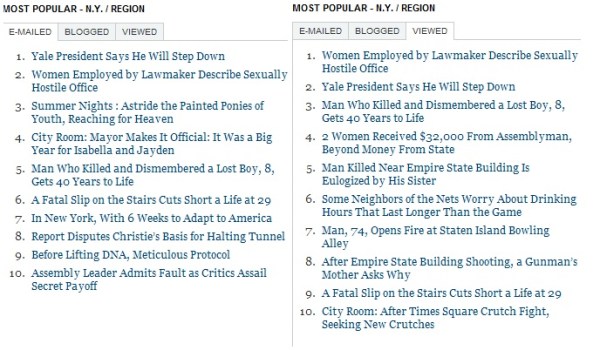 Surely the stories readers "should" be more interested in is a subjective matter, but: It does say something about Times readers, mainly that one of the most stunning political corruption stories in recent New York City history is equally if not less compelling than an education bureaucratic of an elite institution stepping down to write a book.
fkamer@observer.com | @weareyourfek