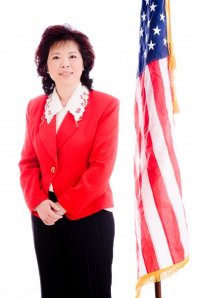 With only a couple weeks to go until election day, races for state legislative primaries across New York are heating up, and one of the top ones in the five boroughs is the campaign to replace outgoing Assemblywoman Grace Meng in her Flushing-based district. Ms. Meng of course is currently the Democratic nominee for Congress and will be leaving a vacant seat behind her.
And it's a crowded field that includes Ron Kim, Ethel Chen, Myungsuk Lee and Martha Flores-Vasquez. Although much attention has been devoted to Mr. Kim, who has the backing of the Queens County Democratic Party, Ms. Chou is also expected to perform well, thanks to her name recognition from a City Council primary win in 2009 and base of support in the district's Chinese community. Naturally, her campaign interested in touting its support too.
To wit, her Ms. Chou's campaign passed along a press release announcing the support of the United Federation of Teachers, which has well over a hundred thousand current and retired members within the city's borders. Her campaign also received the endorsement of their statewide counterparts yesterday.
"Yen Chou is a proven advocate for parents, students, teachers and her community," UFT head Michael Mulgrew said in a statement. "She has fought for Queens' schools, and she will continue to fight for New York City in Albany. We are proud to endorse Yen Chou for New York State Assembly."
Mr. Mulgrew will also be attending a press conference to endorse Ms. Chou in person at the Queens UFT Headquarters later today.
Of course, Mr. Kim, who received an endorsement from the Teamsters yesterday, has gathered plenty of his own significant endorsements from labor, including Working Families Party, 1199 SEIU, UFCW Local 1500, 32BJ SEIU. Also, with the Queens county organization's official backing, he has received the endorsements of most of the officials in the area, including Comptroller John Liu.
In an Asian-majority district, and with a race that features two Korean-American, two Chinese-Americans and one Latina candidate, turnout and relative support among the diverse demographics could have a strong impact on the ultimate outcome as well.