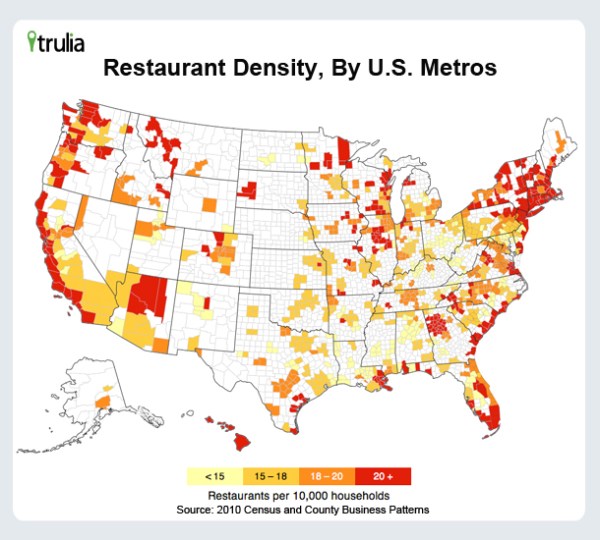 We like to think that because most New Yorkers live above the shop, we are the restaurant capital of the world. Yet even with the heralded arrival of Danny Bowien, it turns out San Francisco kicks our (pork) butt when it comes to restaurants per capita. Even worse, so does Fairfield County in Connecticut and–gulp–Long Island.
Those were the findings of Trulia economist Jed Kolko:
Using Census data, we found the metros with the highest density of restaurants and bars, adjusting for the number of households (details at end of post). We didn't try to measure quality since that's a matter of personal taste, and the best-restaurant or favorite-bar debate can get fierce. Instead, we focused on the quantity of restaurants and bars that locals can choose
When it comes to bars, neither we nor San Francisco even come close, with New Orleans taking the top spot, followed by a bunch of depressing Midwestern cities, which, given the collapse of local industry and the recent droughts, sure could use the drinks.
Interestingly, there seems to be no correlation between the cost of homes and the density of eateries and breweries, except that the places with more of the latter tend to be quite a bit cheaper, which, when you think about it, makes quite a bit of sense.