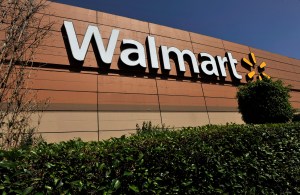 Mega-retailer Walmart had been working on a plan to place its first store within the five boroughs in East New York for some time now, only to ultimately hit a wall last weekend when the property owners chose ShopRite instead. Well, Democratic politicians–including several who are looking to run for mayor in 2013–want to make sure you know they are more than pleased with this development.
From Council Speaker Christine Quinn, who weighed in without mentioning Walmart's name:
"I congratulate the Related Companies, Shop Rite, and UFCW for reaching a deal to bring the retailer to Gateway Plaza. Shop Rite will bring quality food to this area of Brooklyn as well as good jobs with an economic impact that will be felt throughout the five boroughs. I welcome this company's newest location with its history of responsible business practices, supporting its workers and the communities they serve. This deal is a win for New York City."
Public Advocate Bill de Blasio was a bit more direct about the Walmart situation:
"New Yorkers need good jobs—and that's precisely what we'll get with the deal this week. Our neighborhoods deserve far better than a company with Walmart's track record. Walmart has never been the answer for our city, least of all at a time of high unemployment, declining incomes and struggling small businesses. I congratulate Related, ShopRite and UFCW for delivering a plan that truly meets our economic needs."
As was Manhattan Borough President Scott Stringer:
"The deal reached this week with Shop-Rite is a model for what can be achieved in cities across the country – by working collaboratively and standing strong, Americans can create healthier neighborhoods and expand economic opportunity without betraying the Middle Class. Without a Walmart in their midst, residents of Brownsville have access to healthy fruits, vegetables and groceries from a retailer that respects working New Yorkers."
Although their names were not included in the release, two other top mayoral contenders, former Comptroller Bill Thompson and current Comptroller John Liu, have been sharply critical of Walmart in the past. Mr. Thompson, for example, went so far as to blame the company for the plight of the middle class.
Mayor Michael Bloomberg is very supportive of Walmart's right to build anywhere in the city where it meets basic zoning requirements, but should he be replaced by a Democrat, the retailer almost assuredly will no longer have a friend in City Hall. Unions and labor are among Walmart's biggest critics, and with their influence in low-turnout primaries that select nominees in extremely Democratic electorates, New York pols campaigning for higher office are often receptive to their positions.
For its part, Walmart said it remains committed to expanding its presence into New York City. "We were unable to agree upon economic terms for a project in East New York," Steven Restivo, a company spokesman, told The New York Times. "We remain committed to bringing new economic development and shopping options to New York City, especially in the neighborhoods that need them most."