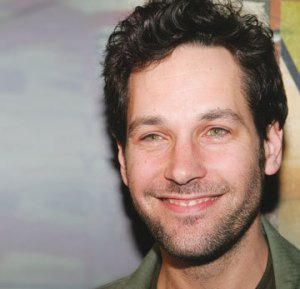 Chaplin
Barrymore Theatre
Opens September 10
In the footsteps of the Judy Garland biographical play End of the Rainbow tramps Chaplin, a musical about the life of Chaplin. Unlike other attempts to illuminate the lives of showbiz legends–a subgenre that also includes Master Class's portrayal of Maria Callas–Chaplin is to have a cast of 22 in what surely will be splashy musical numbers. Rob McClure, previously of Avenue Q and, well, the La Jolla out-of-town tryout for Chaplin, takes on Charlie in a production that is likely to showcase every element of the actor's legendary film career but for the silence.
Grace
Cort Theatre
Opens October 4
Paul Rudd, suddenly more prolific than he's ever been with TV and film gigs, is headed back to Broadway. (He previously played second fiddle to Julia Roberts in Three Days of Rain–but now he's the star!) Mr. Rudd is to play one-half of an innocent couple moving to Florida in order to start religious-themed motels; his better half is to be played by Kate Arrington, whose real-life partner, Oscar nominee Michael Shannon, joins the fracas as the pair's new neighbor, while legendary TV fixture Ed Asner plays an exterminator. (With all these mainstream stars, is this a Broadway show or the SAG Awards?)
Cyrano de Bergerac
American Airlines Theatre
Opens October 11
It's been five years since the last Broadway production of Cyrano de Bergerac, and theater writers have been storing up nasal puns since then. (Who nose if this will be a success? We'll be sniffing for hints from the producers! Etc.) Tony-winner Douglas Hodge straps on the prosthetic nose for the title role of the lovesick, prohibitively ugly French nobleman, while Clémence Poésy is to allure as Roxane, the not-so-obscure object of desire, and onetime Spider-Man villain Patrick Page makes us all glad he survived that production as he plays Cyrano's erstwhile ally Comte De Guiche. We smell a good night at the theater!
Who's Afraid of Virginia Woolf?
Booth Theatre
October 13
To celebrate the fiftieth anniversary of Edward Albee's rollicking domestic nightmare, the New York stage welcomes a production by way of Chicago and Washington. Tracy Letts, who moonlights as a Pulitzer-winning playwright, is to take on George, while Steppenwolf star Amy Morton (previously, too, a Tony nominee for Mr. Letts's August: Osage County) has been honing her piercing shriek as Martha. Both actors appeared in the original production, which earned raves from local critics–and surely they're ready for the big time–the three-hour play is the sort of marathon you can only really train for by two years and three cities' worth of practice.