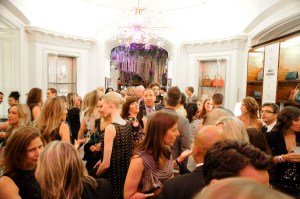 "I hope I have a job tomorrow." That was personal shopper Betty Halbreich's reaction to the Sept. 12 preview of Matthew Miele's fashion documentary Scatter My Ashes at Bergdorf's. Ms. Halbreich explained, "I spurt things without thinking!" But to others, her brutal honesty and WASPish sense of humor made her one of the film's firm favorites. Gossip Girl costume designer Eric Damon spoke for all when he said, "It's all about Betty."
Ms. Halbreich, The Observer thinks you'll be just fine.
As Fashion Week comes to a close, the celebration of Bergdorf Goodman's 111th anniversary stepped into the spotlight. Swapping Lincoln Center's front rows for the old-style stadium seating of The Paris Theater, a confluence of fatigued fashionistas enjoyed a show that for the first time in seven days allowed them to remain in their seats for more than 10 minutes.
A special screening of Mr. Miele's documentary was followed by an after-party at the iconic department store. In popular culture, this lair of luxury goods and ladies-who-lunch has been a backdrop to many a movie scene and TV show; now it's a story, and a movie, in itself. The 90-minute documentary paints a portrait of Bergdorf's past, present and future, as Mr. Miele invites a collection of 175 of its directors, clients, employees, designers and wannabe designers to share their experiences and fondest memories of New York's finest.
For designer Jason Wu, whom we caught up with pre-preview on the purple—not red—carpet, walking into the store is "an experience that can't be replicated."
As was, for us, the walk between the 58th Street theater, a haven for the city's intellectual movie buffs, and Bergdorf's, just around the corner on Fifth Avenue; we strolled tête-à-tête with Senior Vice President and Fashion Director Linda Fargo.
"The store isn't just a store," she said, "Every place has a story—it's like a newspaper: a lot of paragraphs, a lot of voices, a lot of characters."
Bergdorf's rich tapestry of characters didn't disappoint. Greeting us as we entered the store was doorman James, working his 17th year of magic at the 58th Street entrance and another memorable member of the film's cast. And David Hoey, who before the screening modestly described himself as "the guy who does the windows," was also prominently on display.
The windows played a starring role in the film. AndrewAndrew, regular DJs at the store—you may have spotted them there on Fashion's Night Out—"loved the window show." Designer Michael Kaye also observed that the whole film could have been about the spectacle from the sidewalk.
Mr. Miele has lifted the purple veil and exposed the secrets behind the glass display. The one caveat, voiced by supermodel Alva Chinn among others, was that it was "a wee bit long." Perhaps the fashionistas' endurance was by now conditioned by the brevity of the runway shows.
Although Fashion Week was coming to an end, the thumbs-up, thumbs-down urge continued: Best-dressed was a toss-up between stylist, socialite and model Michelle Harper, with her floor-length black and red gown and Marilyn-Monroe locks, and Michele Ouellet, muse to Libertine designer Johnson Hartig, whose multicolored coat—no it wasn't Joseph's—certainly turned some heads.
Mr. Miele himself confessed that he himself was "not a fashion guy at all." He told us before the screening that his tie (appropriately purple) had been a gift from his wife. The cellphone conversation, he added later, went something like this: She said, "It's two hundred dollars, is that too much to spend?" He said, "Where are you?" The answer? "I'm at Bergdorf's!"