Alan Dershowitz may be from Williamsburg, but the famed legal mind steered clear of the hippest of hoods when it came time to buy a pied-a-terre in the city of his birth. Instead, Mr. Dershowitz headed straight for that stronghold of old money, purchasing a three bedroom, 2.5-bath co-op at 45  Sutton Place.
And after all, Cambridge, where the longtime Harvard law professor has a sprawling six-bedroom house, is also known for being rather tradition-bound, so we're sure he'll feel right at home enjoying all his civil liberties in the new apartment. Besides, what could be more perfect for Mr. Dershowitz than a dwelling overlooking the new Four Freedoms Park?
The celebrity lawyer paid just $1.68 million for the sunlit, 16th-floor spread, apparently using his prodigious verbal talents to talk sellers Alan and Danna Polikoff down from the $1.89 million they were asking most recently. But then, the couple, who originally listed the apartment for $2.29 million in January 2011, were eager to sell. The listing, held by Prudential Douglas Elliman broker Lawrence Rich comes right out of the gate in the manner of discount warehouse banner: "Major Price Reduction!"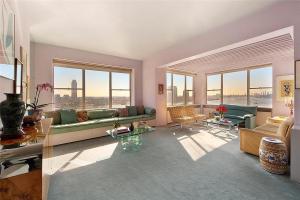 Nonetheless, we'd expect at least a little arm-twisting talk from the man who helped get Claus von Bulow and OJ Simpson off the hook. Even if had he had no objections to the airy apartment and its plentiful river views (you can even take in the Williamsburg Bridge from the apartment, from a safe distance).
Mr. Dershowitz joins fellow Ivy Leaguer Chrsitina Paxson in snapping up a city getaway. We're inclined to commend these academic superstars for being savvy investors, but these days, investing in Manhattan real estate is really a no-brainer.
Best of all, the apartment isn't far from Mayor Bloomberg's Upper East Side townhouse so the Mayor and Mr. Dershowitz can easily schedule tête-à-têtes to discuss their shared distaste for the Second Amendment.
kvelsey@observer.com