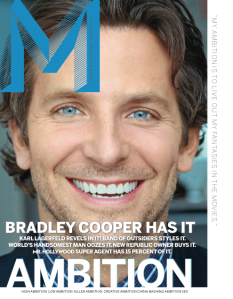 M, the magazine for "The New Class of Man" hit newsstands on Monday. The relaunch of the men's lifestyle glossy with heavy matte paper stock was excitedly heralded by a profile of M editor (and former longtime New York Observer editor) Peter Kaplan in The New Republic.
But nobody has been more fired up about the new mag than the Twitter feed @real_kaplan. The parody feed, which is written by former Observer staffers Peter Stevenson and Jim Windolf,  has long furthered the legend of Mr. Kaplan's New York, old-school sensibility. 
Although the twitter feed is usually funny, Mr. Kaplan's recent publicity for the magazine, has given his online parody alter ego fresh material and it has been on a hot streak as it promotes M.
Here are some of our favorite recent @real_kaplan musings:
@real_kaplan I kept it off the Web so Buzz Feed wouldn't fuck with it. M. It's for you.

@real_kaplan Adam Moss took one look at it and plotzed. M. Available at your neighborhood five and dime.

@real_kaplan Sarkozy, not Putin. Olivier, not Branagh. Candace, not SJP. M, not O. M magazine.

@real_kaplan The lingam to @naomirwolf's yoni. M magazine. At better newsstands now.

@real_kaplan You can buy it in Dubai. But you can't buy it in Brooklyn. M magazine.