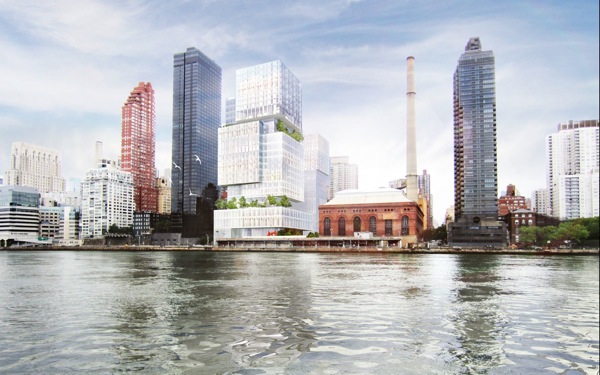 New York City, forever expanding its architectural and medical offerings, is about to add two contemporary healthcare centers to the hospital corridor along the East Side of Manhattan, in a prominent location right on the shore. It will further highlight the city's position not only at the forefront of the nation's medical establishment but also within the design leadership.
This morning, Mayor Bloomberg, Memorial Sloan-Kettering Cancer Center, CUNY and Hunter College announced plans to build two new science and medical facilities in a new millio-square-foot building on the Upper East Side. They reflect the Bloomberg Administration's efforts to expand science and research activity in New York City at a timely moment when the city's science, technology and research fields are flourishing.
"Thanks to our innovative approach to economic development, today's announcement is yet another step towards making New York City home to the world's most talented workforce," said Mayor Bloomberg. "Not only will these two great institutions play a critical role in creating great jobs in one of the city's growing industries, but they usher in the innovators and medical advancements of tomorrow."
These two new facilities will allow both Memorial Sloan Kettering and CUNY/Hunter College to move into labs and healthcare units appropriate for the cutting-edge work and care that they both do—and they will look cool doing it. In a deal with the city's Economic Development Corporation, the institutions will pay $215 million for a 66,000-square-foot city-owned site at 525 East 73rd Street, a move the mayor lauded as a prime public-private partnership.
Most of the space will be taken up by Memorial Sloan-Kettering, the world's oldest and largest private institution devoted to cancer care, which will construct a 750,000-square-foot state of the art cancer treatment facility. The aim of the project is to prompt the development of innovative outpatient treatment programs.
CUNY Hunter College will take up the balance of the space with a new Science and Health Professions building that cover ssome 336,000-square-foot. The project upgrades Hunter's science and nursing facilities and enables its faculty, researchers and students to work in a location close to its main campus on the Upper East Side. It will also provide efficient and state-of-the-art science and nursing facilities.
And, as well as offering physicians and researchers an inspiring and efficient environment in which to both work and provide care, the new building will lend a lick of paint to New York City's landscape. The nifty new building, designed by Ennead Architects and Perkins Eastman, is a bold addition to the repertoire of hospital architecture. It also gives Diller Scofidio + Renfro's new medical building for Columbia further uptown a run for its money.
These buildings will aid medical studies and care in New York, and as an added bonus they will decoratively add to its distinctive skyline; what city could ask for two more welcome additions.