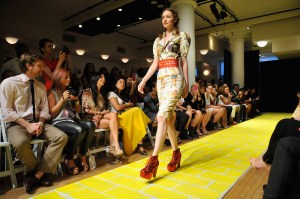 Today, as we stumble across the halfway point of the Blackberry-clutching, cab-stealing marathon known as Fashion Week, we've invited some friends and experts to join us in a lunchtime conversation, using discussion tool Branch, on Fashion Week etiquette: In a week so schedule-crazed and tailored to larger-than-life personalities, does civility even exist?
Joining us:
Peter Davis, editor-in-chief of Scene magazine
Scott Lipps, president of model agency One Management
Mary Alice Stephenson, style and beauty expert
Kelly Cutrone, of the fashion PR world and America's Next Top Model judge
So check it out here! Our lunchtime Branch conversation on Fashion Week Etiquette.