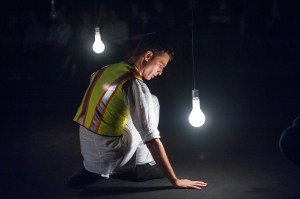 BAM HAS UNVEILED its new $50,000,000 performance space, configured for 250 viewers, with a commissioned work, Eclipse, by the ex-Cunningham dancer Jonah Bokaer and his collaborator, the visual artist Anthony McCall. For this event, the space is square, seats all around with some more on a second level, and highly intimate—at times, if you're sitting in the front row, you're practically brushing knees with the dancers. Daring—yet in a way, that very closeness pushes you back from them: As they dart toward you and past you, you can't help bracing yourself. And there are no seatbelts.
Eclipse is a concept piece,and its concept centers on 36 large light bulbs strung from above in a geometrical pattern and at different heights, some of them at times down below the dancers' chest level. (The bulbs rise and descend, just as they glow and dim.) Bokaer himself is the master of ceremonies, in that it's he who emerges out of the dark to slip among the bulbs, his closeness to them and emphatic gestures at them turning them on, so that the stage slowly grows bright(er). He's the Old Lamplighter, except that he's young, good-looking and a striking dancer, and he's wearing a semi-fluorescent reflecting safety vest like those you see on the ground crew when your plane is taxiing in.
Bokaer's (long) solo constitutes the first section of Eclipse,and it'sa pleasure to watch because he's a pleasure to watch. The vocabulary is very specific, but I haven't seen enough of his work to know whether it's his standard vocabulary or one created for this work only. As he proceeds around the area, willing the lights to go on, his movement is fluent, or fluid, in contrast to sharp, angular gestures—an arm snapped back behind the torso, for instance. When at last the bulbs are all lit, he's gone, through one of the four exitsat the corners of the square stage area.
There's a sound element—if you want to be kind, you can call it a score—consisting of what's apparently the humming ofa film projector, interrupted by sudden loud spasms of noise (a landing helicopter, a train rushing by) announcing that one part of Eclipse is over and another beginning. There are four other dancers, two men and two women, all solemnly invested in the proceedings. The most intense, and very compelling, is CC Chang. She's radically turned-in; she crouches, she convulses, she rushes at us—careful there! Later, there's an affecting duet for two men, Tal Adler-Arieli and Adam H. Weinert, the head of one nestled against the other's outstretched leg; this one's foot resting on that one's upper arm.
Eventually, things wind up, or down. The four are standing still, staring upwards, in an unfortunate echo of the portentous ending of Dances at a Gathering, before dispersing through the four exits in time for the Old Lamplighter to reappear and reverse his routine— this time his presence dousing the bulbs. Curtain—or, rather, blackout, since there is no curtain.
Eclipse is overlong and overly self-conscious, but it isn't a fake or a zero; it just gets exhausting. It raises a crucial question: When does Concept morph into Gimmick? There's been a lot of talk about Bokaer's being inspired by McCall's visual art, but the collaboration ceases to be interesting after a while, and surely would lose its punch on second viewing. That's the trouble with concept—what's left when the thrill is gone? For Bokaer to succeed in the long run, he'll have to depend on his own mastery of the language and powers of invention; the lights and the sounds can follow.
THE AUDITORIUM up at the Guggenheim is a space of a different kind: a small stage at one end, an oddly laid out seating area facing it. It too has an effective intimacy, but a more formal one, perfect for the series of "Works & Process" programs frequently performed there.
This time round it was a lecture-demo: six leading dancers from Pacific Northwest Ballet demonstrating the points being made from the sidelines by the company's artistic director, Peter Boal—maybe the best-liked guy in ballet. The topic was the way Balanchine changed and adapted his ballets through the years, sometimes subtly, sometimes dramatically—as when he guillotined the opening scene of Apollo, the birth, and eliminated the ascent of the staircase at the end. PNB performs this later version according to Balanchine's wishes, but rather than presenting a cogent argument for one version as opposed to the other, Boal leans on the Master's rather snarky statement that it was his ballet and he could do whatever he wanted with it. (Boal is discreet about his personal preference, having been an outstanding Apollo himself.)
The dancers also displayed less obvious adjustments made to Apollo as well as to the other ballets under consideration. Two men, for instance, showed us how the "Melancholic" section of The Four Temperaments evolved, dancing their versions separately and then side by side. The first "Pas de Trois" from Agon received the same treatment. Deploying historic film footage as well as live dancing, Boal convincingly demonstrated that the ubiquitous showpiece Tchaikovsky Pas de Deux can be danced many different ways, presumably with Balanchine's benign approval. The use of film throughout was particularly stimulating: I had forgotten just how fierce Jacques d'Amboise was in the first solo of Apollo half a century ago.
Pacific Northwest isn't a thrilling company but it's a vastly intelligent and responsible one, and it has an outstanding ballerina, Carla Körbes, who was allowed to get away from New York City Ballet. What she showed us of her Terpsichore was a revelation of how this role can be danced—light, confident, musical (of course), and captivating without being seductive or adorable. (None of those awful grins that ABT ladies go in for.) No wonder Apollo falls for her.
The leading male dancer, Seth Orza, also from City Ballet, is solid but also stolid; he doesn't have much to reveal about Apollo. But a young man in the company, Matthew Renko, still in the corps, is everything that's been expected of him since he was at the School of American Ballet. He's intense, committed and interesting—reason enough, along with all the other reasons, to catch PNB when they turn up at the City Center in February.
editorial@observer.com