Heavy weather like tornadoes isn't as common in New York and points north as it is in the Midwest and the South, but it looks as though this Saturday may be an exception. The National Weather Service has already issued multiple severe thunderstorm and tornado watches and warnings for New York and New England.
If you're skeptical about the possibility of twisters in New York (all the boroughs have had their share of such severe weather, but they're not going to give Oklahoma City a run for its money any time soon), Youtube user Roy Currlin's nearly 6-minute video of an apparent tornado blasting through a neighborhood in Queens late Saturday morning may give you some pause:
[youtube http://www.youtube.com/watch?v=_w8gWj2Ue3I]
breezy point tornado ? 9-08-12 – YouTube.
Mr. Currlin's succinct video description notes the twister occurred in Breezy Point and said the most dramatic portion of the video–around 2:25 in–is the tornado striking the Breezy Point Surf Club before moving on.
Twitter user Zack Rosenthal may have captured one of the more striking stills of the same tornado, posting the image on Instagram and indicating he was in Brooklyn/Queens area at the time:
#tornado on the belt parkway. insaneeeeinstagr.am/p/PUbawtJKxG/

— Zack Rosenthal (@Zack12Rose) September 8, 2012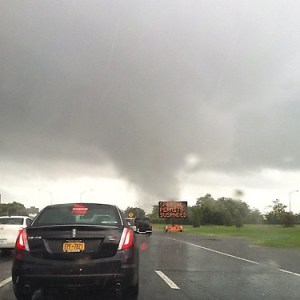 NY1 reports the F.D.N.Y. is in Queens at the scene of the strike and that there are power lines down and damage to trees in the Flatbush section of Brooklyn.
The National Weather Service issued an alert Saturday morning for possible severe weather from Connecticut up through Southern New Hampshire.
All boroughs were under a tornado watch until 9 p.m. Saturday.
UPDATE: A second Youtube user captured a twister in the water, striking Gerritsen Beach in Brooklyn:
[youtube http://www.youtube.com/watch?v=Q1VlS10cbyw]
It is likely the same storm, as Gerritsen Beach is due north of the Breezy Point Surf Club.