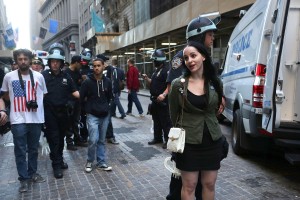 An activist group founded by the notorious Koch brothers is holding a demonstration in Midtown tomorrow to voice its opposition to President Barack Obama's economic policies and to stand up to the "Occupy Wall Street mob," according to a press release.
Activists from Americans for Prosperity plan to protest tomorrow morning outside the Time-Life building as part of group's Failing Agenda Bus Tour, which is devoted to urging President Barack Obama to shun policies that increase the nation's debt. Despite the group's billionaire backers, the AFP describes itself as a grass roots organization. It has more than 2 million supporters nationwide.
In addition to the bus tour, the Americans for Prosperity is launching a $25 million ad campaign in support of Mitt Romney's presidential candidacy next week, according to the Huffington Post. The group has already spent $15 million on ads attacking President Obama.
A spokesman for the group's New Jersey chapter said the demonstration would serve as an opportunity to disavow Occupy Wall Street, the movement that professes to advocate for the 99 percent.
"The Occupy Wall Street crowd is nothing but a fringe element of malcontents bent on mayhem and destruction,"said Steve Lonegan, director of Americans for Prosperity's New Jersey branch. "These are people who despise free enterprise. They are not attacking Wall Street. They are attacking the very freedoms that everyday Americans cherish to pursue their own dreams and succeed."
Occupy Wall Street commemorated its first anniversary on Monday, staging protests throughout lower Manhattan in "resistance to economic injustice." According to the NYPD, there were 185 arrests in conjunction with the protests.
"It's time that someone stood up to the Occupy Wall Street mob," said Mr. Lonegan in the release, adding that the group would also protest President Obama's economic policies:
"What the American people are really worried about is President Obama's failing agenda," he said. "They are worried about a failing agenda that is saddling future generations of Americans with trillions of dollars of debt and leaving them with a bleak future."