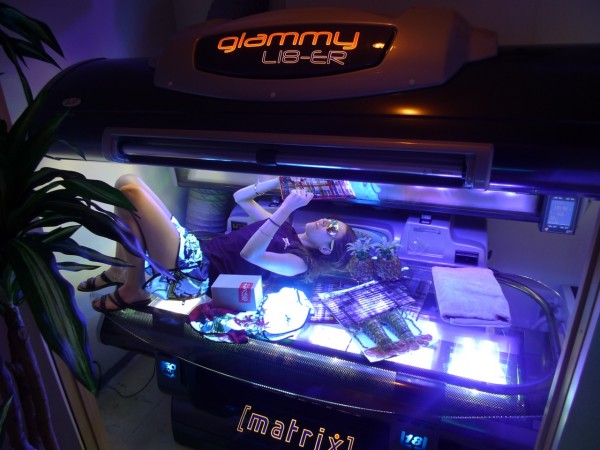 So carved in stone are New York's gallery hours—10 a.m. to 6 p.m.—that one gallery actually named itself after them. Casey Kaplan 10–6 is now simply Casey Kaplan, but for the most part those hours have persisted, with some exceptions, like those Lower East Siders who can't bother to arrive before noon. These days, however, there are so many shows around town that it's become difficult for gallery-goers to fit them all in during business hours. Mercifully, some have blasted through the iron walls of 10 to 6, and a few have gone so far beyond them that one could take a 24-hour tour of the city's art scene. Let's do it.
Start late. Through Oct. 14, the Lower East Side's Miguel Abreu Gallery (36 Orchard Street) is open Wednesday through Sunday, from dusk until midnight, for its first show with German artist Rey Akdogan. It's titled "Night Curtain" and includes abstract slide projections and light works—ideal for viewing in darkness.
After a long visit there, head over to one of the classics of the late-night movement, the Dream House of La Monte Young and Marian Zazeela, on the third floor of 275 Church Street. It's just reopened for its 20th season after a summer hiatus, and it offers pumping, mind-cleansing drones in a pink-purple room Thursday through Saturday, also until midnight.
After a while up there, it might be time for a drink. Go for it! The Home Alone Gallery is not going anywhere. Located just a few blocks away at 54 Franklin Street, the space, which was started by artists Nate Lowman, Hanna Liden and Leo Fitzpatrick a few months back, never closes. (Granted, it's just a window at street level.) Through Oct. 7 it has a show by British artist Sarah Lucas—a chair (with some unusual accoutrements) hung from the ceiling and a photograph of a toilet.
That modest display will keep you for only so long—you'd be forgiven for going home to bed. (The adventurous can scope public art in the city's privately owned public spaces, a few of which are open 24 hours a day, or city parks, which close at 1 a.m.) But wake up early: starting Oct. 2, one can visit Gavin Brown's Enterprise (620 Greenwich Street) beginning at sunrise—6:53 a.m. that day. Tuesday through Saturday, GBE is staying open from sunrise to sunset for "Maler, den Pinsel prüfend," a solo show of German artist Kerstin Brätsch with new glass works, lit only by natural light.
The reception for Ms. Brätsch's show is Saturday, Sept. 29, from 5 to 8 p.m., and will include an outdoor performance by Das Institut, which she cofounded, and the United Brothers duo at around 6 p.m., as the sun nears the horizon. The hours of the exhibition will grow shorter with the days. When the show closes on Oct. 27, the gallery will shutter at 5:59 p.m.—just about back to regular hours.