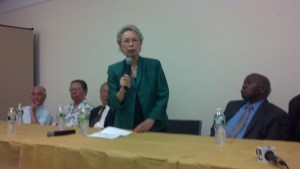 Earlier this afternoon, community leaders gathered together off Bowery Street in Chinatown to castigate the federal government for their continued investigation of Comptroller John Liu's fundraising operation. Before the criminal charges were leveled against his campaign treasurer and a top donor, Mr. Liu was a leading candidate for mayor, causing the event's speakers to surmise there were political motivations behind the allegations. Among those speaking out against the feds were former Rep. Major Owens, who blasted the 18 month-long investigation as "Nixonian," and former District Leader Virginia Kee, who used even sharper rhetoric by invoking the Holocaust.
"I am so glad that members of the press are here to hear us. For so many months, our voice was not heard outside of Chinatown," Ms. Kee, who was emceeing the event, said before suddenly pivoting to a darker topic. "You know we were not there in Nazi Germany. But maybe we were. But maybe we were. There were a lot of people who saw people being killed. Wasn't there a need for us to say, 'This is wrong. This is wrong?' So we see it, now that John Liu's problem [has emerged]. We see it as from the Americans' perspective that this country can be somber in a way to give everyone the equality, the recognition we deserve, then it would bring out the best in people. We need to do that."
"We should not condemn someone who has done no wrong except try to run for public office," she concluded. "Isn't that what we all should be able to do? If John Liu isn't able to do it, we will not have an Asians standing up for a very long time and maybe our young people will suffer greater discrimination. Thank you all."
A reporter understandably asked Ms. Kee if she could clarify her reference to Nazi Germany, causing her to explain that, in light of the Jewish NewYear, she was speaking out on Mr. Liu's behalf just like Germans should have done against Adolf Hitler's policies of human extermination.
"I was saying that, because I was thinking of Rosh Hashanah, the Jewish [holiday], and what happened in Nazi Germany so many years ago," she answered. "You were not there. I was not there. But in a sense, we were all there. Weren't there many good Germans who allowed this to happen? Were there many good Nazis at that time? Why wasn't there an outrage? I think it was terrible!"
Ms. Kee was pressed one more time about the Nazi comparison, where she responded, "I am saying the comptroller, who has done nothing, how would any one of us like to undergo an investigation for 18 months and have our wire tapped, talking to our friends, our family? Isn't this outrageous?"