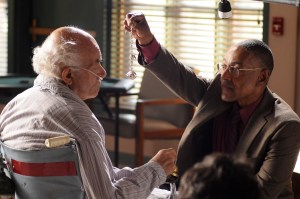 Mr. Margolis' might be fighting for recognition, but he is recognizable … sometimes to his detriment. Over the course of his half-century career, the actor has been cast in standout roles that attract a certain type of fan: Besides playing a Mexican gangster and a South American assassin in Scarface, he is most recognizable for having portrayed the HIV-positive Italian mob boss Antonio Nappa in HBO's Oz.
"A lot of the people that stop you—well, they're not nuts, exactly. They're more like super fans," Mr. Margolis said ruefully. "They think that I'm some sort of rich guy, that everyone in the movies is making the kind of money Angelina Jolie is making. They don't realize that most of my life has been a struggle. Maybe the last 15, 20 years have been okay, I've been able to make a living."
Once or twice, there has been a situation—when the actor failed to adequately acknowledge the "street thugs" who recognized him for his more badass characters, especially his turn in Scarface as a henchman in Alejandro Sosa's Bolivian crime syndicate.
"I used to get these young guys on the subway coming up to me," Mr. Margolis said. "They'd say, 'You know that car scene with Pacino … why weren't you getting the drop on him before he shot you?"'
"I always tell them, 'Because there was a script.'" Mr. Margolis rolled his eyes. He's over it. As for that infamous Pacino car scene—the one in which Tony Montana tells Mr. Margolis' character, "No wife, no kids!" before shooting him in the head—the actor has a couple of fond memories.
"The thing about Al was that you didn't know when he was going to start being Tony. We'd be sitting in the car, and he'd just start in about how ugly all of us were—how between the four of us, we'd be able to make one good-looking guy."
Despite playing a Mexican gangster, Mr. Margolis doesn't speak Spanish, and has been called out on several message boards for his incorrect grammar in a certain flashback sequence. Still, he preferred that type of nit-picky criticism to the kind he received from some members of the Italian-American community for playing Nappa. "They'd always say, 'Why is this heeb playing the Godfather?'"
Mr. Margolis' came by his talent through serious training. After graduating from Temple University, he moved to the city and fell into a job with as a personal assistant to Stella Adler. "She was a god in the classroom, but out on the street she didn't know which way was uptown!" he recalled. He would take the famous acting teacher to shop at Bloomingdale's, help her carry her groceries home from the store, and check coats whenever she threw a party. "I had a real fixation with her. I was 19 years old and she was 60. That's what a turn-on she was."
He later took a class with Lee Strasberg, though he was soon bored by the Actor's Studio director's "tiny personality."
He is married to Jacqueline Margolis, also an actor, and his son Morgan has appeared in small roles on shows like Dexter, CSI, Walker: Texas Ranger, and the Knight Rider reboot. The younger Margolis put acting on hold after the birth of his second child to focus on a more lucrative endeavor: he's now the president and CEO of Knitting Factory Entertainment.
According to Mr. Margolis, his son was the one who came up with idea of moving the original Knitting Factory venue from Houston Street to Brooklyn in 2008.
"He's an amazing kid," Mr. Margolis said, shaking his head. "He's so fucking smart. I don't know where he got it from. When he was a baby in the '60s, he was spending his time in vans with hippies, riding with us all over New Mexico, Arizona, you name it. If he was crying, we would blow pot smoke in his face to help him fall asleep. It's amazing he can function at all.
"Of course, you could never do that now," Mr. Margolis added, somewhat nostalgically. "They'd call child services. But I'm told I was a good dad."
The Emmy Award nomination was Mr. Margolis' first. He was up against some heavy competition, including Michael J. Fox as a conniving litigator in The Good Wife. (Mr. Fox and Mr. Margolis appeared together in the 1993 film Where the River Flows North. "It was a beautiful movie, but sad too, because Michael had just been diagnosed," he recalled.)
It's a testament to Mr. Margolis that he is not only perfectly convincing as a frustratingly incapacitated character, but that he manages to radiate so much hostility without being able to speak or move. With only the slightest facial tic—like the twitching pout of the lips in last season's finale—you could feel the hatred Salamanca bears towards the rest of the characters as clearly as if he said the words out loud.
When asked about the nuances of his role, Mr. Margolis claimed that he took most of his cues from his mother-in-law, Shirley, a follies dancer who had suffered a stroke and remained in a nursing home in Florida. "She used to do this little thing with her mouth," Mr. Margolis said, imitating the tobacco-chewing motion he used on the show. "She'd do that whenever she saw us come into a room."
But how does one even get into the mindset of a dangerous drug cartel member who also happens to be an elderly stroke victim?
"You don't play villains like they are villains," said Mr. Margolis, who was recently seen on the stage in a upstate New York production based on the life of Bernie Madoff. (He was Madoff, naturally.) "You play them like you know exactly where they are coming from. Which hopefully you do."
Although Mr. Margolis didn't get his Emmy—in the Creative Arts Emmys announced Sunday, he lost to Justified's Jeremy Davies—it seems we may not have seen the end of Salamanca: "I think they're bringing me back for a dream sequence next season," he said.