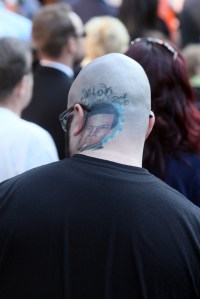 A certain pop star who has no right to be, in light of his outrageous and offensive behavior over the years, recently showed off a neck tattoo of what looks like a battered woman who may or may not be his ex-girlfriend. It is an act that only confirms his sub-humanity, his despicablity, his worthlessness.
Fortunately, there are better people in the world than this.
Neck tattoos are deplorable as a rule, but perhaps today, we have found one of the rare instances where they are acceptable, even admirable: as a permanent memorial to a loved one lost. This picture was taken by the mayor's photographer Ed Reed at the September 11 anniversary ceremony this morning. "RIP DAD," the script reads.