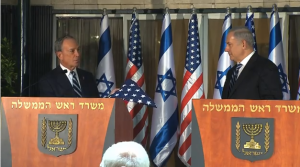 Although President Barack Obama has been taking heat over the past few weeks for his apparent lack of interest in meeting with Israeli Prime Minister Benjamin Netanyahu during this week's U.N. General Assembly in New York, Mayor Michael Bloomberg clearly isn't in the same boat.
Mr. Bloomberg is hosting a meeting with the Israeli leader at the mayoral residence, Gracie Mansion, at 3 p.m. tomorrow afternoon, according to his schedule that was released earlier this evening. Their meeting, which will be open to the press and broadcast on the city government's website, tops off a busy day for Mr. Bloomberg where he's set to make multiple speeches and meet with the Prime Minister of Thailand as well.
After President Obama was criticized for not scheduling more meetings with world leaders during the annual U.N. confab, he arranged sitdowns with Yemeni President Abd Rabbo Mansour Hadi, U.N. Secretary General Ban-Ki Moon, Vuk Jeremic, president of the U.N. General Assembly. So far, his office has remained mum about whether he will add Mr. Netanyahu to his schedule as well.
While Mr. Bloomberg has declined to criticize Mr. Obama over his lack of meetings with Mr. Netanyahu, other New Yorkers have not been so shy. Notably, Brooklyn Assemblyman Dov Hikind, an Orthodox Jewish Democrat, has been particularly aggressive.
"The president has no time to meet with the Prime Minster of Israel, but he has time to do everything else," Mr. Hikind said in a Fox News interview. "He has time, it seems Prime Minister Netanyahu is not as enticing as Whoopi Goldberg or some of the other people that the president enjoys meeting with."