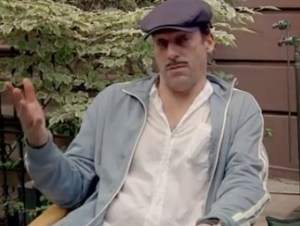 — Mindy Kaling was spotted pleading with John Mayer to give his expert opinion on her love life at Koi in the Trump SoHo. We can only speculate that his answer involved calling her genitals racist.

— Jon Hamm plays Aimee Mann's director in her new music video for Labrador:
— A bevy of musical greats made a show last night in memorial of Broadway composer Marvin Hamlisch. Barbra Streisand, Liza Minnelli, Aretha Franklin and Itzhak Perlman performed for VIPs including Mike Nichols, Nancy Pelosi, Regis Philbin, Susan Lucci, Sarah Jessica Parker, Alan Cumming, Sheldon Harnick, Mary Rodgers and Paul Shaffer.
— Eva Longoria and Mark Sanchez were spotted holding hands while leaving a romantic dinner at Daniel. You know, if you care about that kind of thing.
— And in chair-related news, Clint Eastwood feels bad about making fun of the president, and calls himself a Libertarian. Also he has no respect for tables.
http://youtu.be/7mIC8Nw7LqI