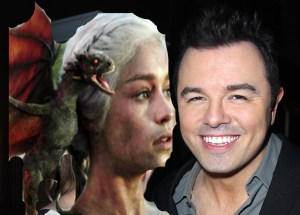 – How did Seth MacFarlane land Game of Thrones's Emilia Clarke?? Do they not have Saturday Night Live in Qarth? This is truly an upsetting turn of events; at least when he dated Amanda Bynes, one got the sense that they were both awful.
– Jenni "JWoww" Farley got engaged to longtime boyfriend Roger Mathews after he proposed to her while skydiving. Smart move, protecting herself from complete reality-show irrelevancy now that Jersey Shore is ending and Snooki might not come back for their spinoff. JWoww Getting Married, anyone?

– Kevin Smith really wants everyone to know that he has paparazzi. Or at the very least, a personal stalker. No seriously, you guys! He does!
– Lindsay Lohan's latest rumored beau, artist Domingo Zapata, is vehemently denying that he's seeing the lung-infected actress. Which really doesn't prove anything, since no one will ever admit to sleeping with Lindsay Lohan, ever again. Plus, he painted her portrait, so they are definitely doing a Leo-and-Jack thing.