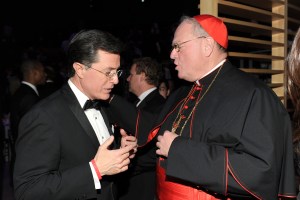 – The Amazing Spider-Man's Andrew Garfield and girlfriend Emma Stone managed to turn an invasion on their privacy into a mitzvah when they used a weekend paparazzo swarm to show off handmade cardboard signs for the Worldwide Orphans Foundation and Gilda's Club of New York City. Hopefully they weren't arrested as OWS protestors.

– Suri Cruise finished her very first week at Avenues, the new private school in NYC. Though "private" is a relative term when there are people waiting in the bushes to take photos of you during snack time.
– Nicki Minaj joined Keith Urban as an American Idol judge, spending her first days on the job fighting with Mariah Carey and beginning New York auditions. That's got to be worth $12 million, right?
– Stephen Colbert joined New York Cardinal Timothy Dolan onstage at Fordham University on Friday, telling the Jesuit school students that despite the flaws in the Roman Catholic hierarchy, he loved his Church, "warts and all." No, he wasn't in character. Stop being so cynical.
– Seth MacFarlane kicked off a "meh" premiere of Saturday Night Live, but maybe that's because his face just looks so damn punchable. The night's best sketch didn't involve the guest star at all, with an Obama-sponsored political ad.
[protected-iframe id="783eed8292c2d6db99396372b25bb3f4-35584880-35147716″ info="http://www.hulu.com/embed.html?eid=uuxaxecxlvqmkywgyr4y-w&partner=edp&uri=http%3a%2f%2fwww.hulu.com%2fwatch%2f401533″ width="512″ height="288″ frameborder="0″ scrolling="no"]