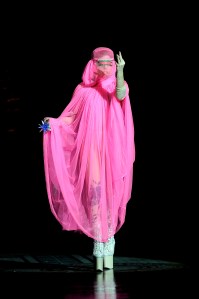 — The Church of Scientology has written a strongly-worded letter to Vanity Fair about Maureen Orth's cover story on Tom Cruise and the woman auditioned to be his girlfriend, Nazanin Boniadi. It's eight pages long. In it, the church threatens, "If Vanity Fair goes forward with publication of such defamatory allegations, now that it is on notice that the story is false, the stain on its reputation will last long after any reader even remembers the article. The sting of the jury verdict will last longer still; far longer than any pleasure from racing to publish a poorly researched and sourced story."
— Gossip Girl's Blake Lively is eating more food than she normally eats, and you know what that means … healthier body images for women on television! Just kidding. The only explanation is that she's hiding a secret pregnancy with a shotgun wedding to Ryan Reynolds.
— Lady Gaga is also pregnant, according to reliable source Kelly Osbourne. She's going off the fact that Gaga stopped bleaching her hair and wore a burka to Fashion Week, but she totally forgot the fact that the singer smoked weed on stage in Amsterdam Tuesday. Lady Gaga says she's just fat.
— Fiona Apple is in jail in Sierra Blanca, Texas, for having hash on her tour bus.
— Amanda Bynes continues to go toe-to-toe with Lindsay Lohan for the title of world's biggest train wreck. She also happens to be the most histrionic train wreck, believing that Ms. Lohan's recent car crash was "karma" for the Mean Girl's mean tweet about her.