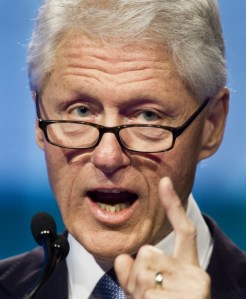 Fresh off his speech at the Democratic National Convention, former President Bill Clinton announced that both President Barack Obama and his Republican rival, Mitt Romney, will attend and address the annual meeting of the Clinton Global Initiative later this month. Mr. Clinton established CGI in 2005 in order to bring world leaders together "to create and implement solutions to the world's most pressing challenges." In his announcement about the presidential candidates' attendance at the annual meeting, Mr. Clinton said their appearances exemplified the organization's non-partisan spirit.
"I'm grateful that President Obama and Governor Romney are taking time to join leaders from all parts of society who choose to address our greatest global challenges through the Clinton Global Initiative," Mr. Clinton said. "CGI is built on the spirit of non-partisan, cross-sector collaborations that drive action."
Mr. Clinton is in a unique position with leverage over both candidates. He has campaigned for Mr. Obama and his DNC speech was widely recognized as one of the most effective arguments made for the President's re-election. The Obama campaign is deploying him this week in Florida, the most crucial battleground state. However, Mr. Romney has also used Mr. Clinton in ads and in arguments against Mr. Obama's welfare policies.
Messrs. Obama and Romney will join a high-powered roster of speakers at the CGI annual meeting including; Queen Rania of Jordan, Mexican President Felipe Calderon, Treasury Secretary Tim Geithner, former Secretary of State Condoleeza Rice and Mr. Obama's senior advisor, Valerie Jarrett. The meeting will take place September 23 through September 25 at the Sheraton New York in Midtown. Both presidential candidates will make their speeches on the final day of the meeting.