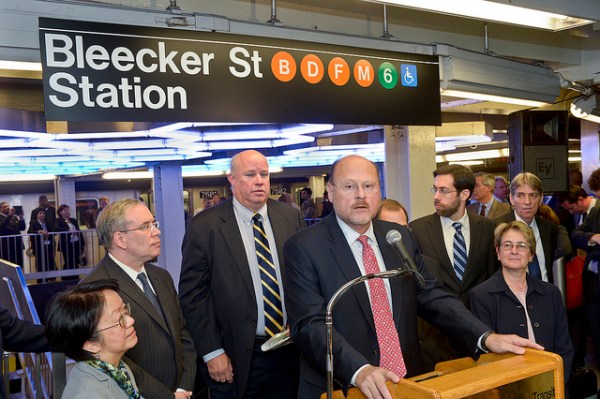 After years of construction, and many more years before that of planning and debate, the uptown connection between the 6-Train and the Sixth Avenue line finally opened yesterday at Bleecker Street. "50 years ago, we have three different subway systems and there was very few connections between all of them," MTA chairman and CEO Joe Lhota said. "Our goal is to make the system more connective. It takes time, and it takes money, but we're getting there."
Mr. Lhota, wearing a red tie printed with fanciful gray trees and elephants, stood beneath the bright, color-shifting tube lights that make up Leo Villareal's Hive installation. The honeycomb-shaped light show serves as a dynamic signpost for the new stairs and escalator that are an integral part of this new connection. In addition to connectivity, the station transformation is all about accessibility.
But there would be no uptown connection, no wheelchair-friendly elevators, without money, and more than anything, that was what Joe Lhota and his cohort really wanted to talk about on this day. The MTA had made four such connections over the past three years New York City Transit chief Tom Prendergast reminded everyone: the R and 1 trains at South Ferry; the R to the A, C and F trains at Jay Street; the 7 to the G trains at Court Square; and Bleecker Street. Without capital funds, none of them would have been possible.
"These projects are important because they create jobs, and they are an important reminder of the vital role our capital program plays in building the region," Mr. Lhota said. "I'm fully aware our 2015 capital program is still unfunded and that's why we need all your support working on a new capital program." He seemed to be talking simultaneously to the press, the Albany and City Hall pols on either side of him, and the public hopefully listening at home.
Manhattan Borough President Scott Stringer recalled the collapse of the system in the 1970s and how much it had taken to get back to where the city and the system are now, though he also underscored the fact that the current stability from the system is far from assured. "I'm glad we have an MTA chair who understands that investing in transportation is investing in New York," he said.
At least some Albany legislators are prepared to take up the fight of funding the MTA. "It's like the chairman said, we have to do more at the state level to fund our mass transit," Senator Daniel Squadron said. He also mentioned that the ghost of Fiorella LaGuardia was with everyone today, as it was the mayor who started the work of intergrading the subway system.
Without the capital program, not only would there be no new trains and track, no new East Side Access or a Second Avenue line, there would also be no new escalators and elevators for the system, an important addition that eases access for all New Yorkers, particularly the elderly and those with disabilities.
The escalator and five new elevators were the work of Assemblywoman Deborah Glick, who not only contributed funds to have them built but also co-sponsored a bill in the 1ate 1990s–"It was so long ago, I can't remember exactly when we passed it," she said–that created 100 Key Stations, critical transportation junctures that needed better handicap access. The Bleecker Station counted as Key Station No. 79, Broadaway station (technically, they're separate) counted as No. 80.
"It's enlightened self interest, this station, we can all get up and down now, but god willing, we'll get to put these elevators and escalators to good use when we're older," Assemblywoman Glick joked.