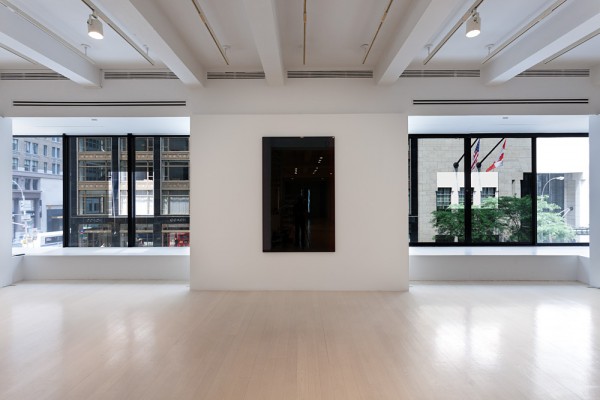 On a gray morning early last week, the artist Robert Irwin sat at one end of the cavernous Pace gallery in Chelsea and gazed out at his latest exhibition. The only things in it are three thin, 16-foot-tall transparent acrylic columns that, under certain lighting conditions, disappear. The opening reception was set for the following evening, and he was trying to figure out how the room would look when it was dark out. Every few minutes, his iPhone rang—a Pace employee on the roof, blacking out skylights.
"These things sit on a delicate edge," Mr. Irwin said. "When it was bright in here, it was pretty yellow, and they get blown out. These things hardly existed at all. Is that good, or is it bad?" Pause. "I don't know." He sounded intrigued, rather than worried.
Though you wouldn't necessarily guess it from his uniform of jeans, running shoes and a baseball cap (with a Coca-Cola logo that day), the San Diego–based Mr. Irwin, who turns 84 this month, is one of the America's great aesthetic radicals: a MacArthur "Genius Grant" winner and a standout among the 1960s Light and Space artists (who are seeing renewed interest at the moment), he is arguably the most influential artist that California has ever produced.
He started out as an Abstract Expressionist painter in the 1950s, but made increasingly minimal work—paintings with only lines, then only dots, then simply discs that hover in space, their edges indistinguishable from the wall. He banished painterly marks, then the frame, then the painting itself. ("I painted myself right out of it," he told me.) By the 1970s, he was producing installations composed only of light and subtle alterations to spaces. He also began venturing outdoors. For a show at the Whitney in 1977, he repainted the intersection of 44th Street and Fifth Avenue and strung a wire between the two World Trade Center buildings—artworks that few probably noticed.
"I was always asking myself, what is the actual goal of art, the actual subject of art? What justifies its high standing?" he said. "We're building these cathedrals to art today, really almost to the level of absurdity, so you ask yourself, what does it contribute?" During his pauses, the muffled sound of a buzzsaw could be heard next door, where Pace is at work on a new cathedral, its fourth New York space. "I'm of the opinion that we are constantly discovering the world and that the point of art is that act."
Given this focus on discovery—"I'm a question addict," he said—it seems odd that he's taken a retrospective look at his career in his recent shows. In April, he opened "dotting the i's & crossing the t's: part I" at Pace's 57th Street headquarters, which includes versions of works he's presented over the past few years. His show in Chelsea is "part II," and those acrylic sculptures are new versions of pieces that he first made in 1971.
Back in April, I met with Mr. Irwin at the 57th Street space, and asked him if "dotting the i's" marked an end point. Was he retiring? "The shows are kind of summarizing some stuff, yeah," he said offhandedly, then  launched into a breathless description of his new fluorescent light pieces, which he layers with gels used on theater lights to create unusual colors. One was on view in the show, and he said he'd been working on new ones that are even more complex. "I'm not actually closing up shop."
In fact, he was just back from London, where, at the request of Pace founder Arne Glimcher, he had taken a look at a space at the Royal Academy that the gallery was considering turning into its London branch. (Pace has since signed a lease there.) Though he has no formal training in the field, he's done his fair share of architectural projects over the past few decades, designing one of Pace's Chelsea galleries, as well as the Dia Art Foundation's museum in Beacon, N.Y., one of contemporary art's most impressive cathedrals.
"Being an artist is really about a sensibility," he explained in Chelsea. "It's an awareness about the nature of things, on a base level. A sensibility is applicable to anything and everything. It's a way of going. So I tested that by doing a garden." He was talking about his garden at the Getty Center, which he made in the early 1990s. "I'm not a gardener. I had never planted a plant before in my life. Can an artist do that? Can I take my sensibility and make things with it?"
The Getty garden is a fairly baroque piece of landscape architecture, but in general Mr. Irwin's sensibility tends toward subtle, unexpected touches. At the 57th Street show, he cut rectangles out of two windows. Few people appeared to notice them at the opening; the street noise was a bit louder than normal, and the light streaming in was different, but if you weren't looking for the work, it was easy to miss. "I think its one of the better things I've ever done," he told me, "in the sense that it's so much what it is, and it's kind of authorless. You don't think about whether it's art or not art. It's just about what you're seeing or not seeing."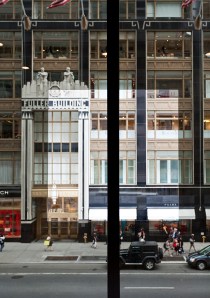 And that—seeing—is the root of his art. When people walk into a room, he said, they "do an instant check, you know—you just want to make sure there's no hole you're going to fall into, there's nothing you're going to bump into, so you do that very quickly, we're not even aware of it—it's instant."
At their best, Mr. Irwin's artworks disrupt that reflex with an absolute economy of means. His acrylic columns just barely distort the view of the room; you may not notice them until a person vanishes while walking behind one. "You're forced to stop for a second, to recheck, because something's not right," he said. "So you freeze, and in that moment of freezing, in a way, you become a first-time perceiver."
All of this can sound a bit precious. The late critic Hilton Kramer said as much in the 1970s in The New York Times, writing, "Mr. Irwin casts himself in the role of an esthetic saint, who, having renounced the world of material art objects, has found salvation in a higher realm of pure perception."
That would be a more convincing argument if Mr. Irwin's art were not so immediately pleasing and accessible (once you notice it), and if he weren't such an obsessive devotee of materials.
For a series of monochromatic paintings at 57th Street, he and his technical collaborator of 45 years, Jack Brogan, used honeycombed aluminum panel developed for airplanes. "You know, there's flat and there's flat," Mr. Irwin said. "The wall's flat, but those panels are absolutely flat, they don't have any warp or weave in them." He added, "They look very clean and simple, but they have probably 40 to 50 coats of paint on them, and they have been hand sanded probably 20, 25 times."
When he and Mr. Brogan first made the acrylic columns 40 years ago, the largest available acrylic blocks were four feet in length, so building tall columns took some effort. They developed special compounds to polish the ends, and then carefully joined them together. Still, the seams were (just barely) visible from certain angles. "Even if you couldn't see them, they were there," Mr. Irwin said.
But technology has improved. Today's acrylic has a crisper, bluer color and is harder, which allows for smoother polishing, and blocks come in lengths of eight feet. The 16-footers in Chelsea have just one seam, and it's impossible to see it. "It's perfect," he said. This innovation presents another conundrum, he happily admitted: is it better for a collector to acquire an earlier, more art historically important column, or a new, technologically advanced one? It's the sort of question one asks more frequently of, say, cars than art.
"If I can make them more beautiful, you know, why not?" Mr. Irwin said by way of explanation. "I'm in the beauty business. I have never made anything in my life that was not as beautiful as I can make it."
arusseth@observer.com
(All images of artworks © 2012 Robert Irwin/Artists Rights Society (ARS), New York, courtesy of the artist and the Pace Gallery, New York)