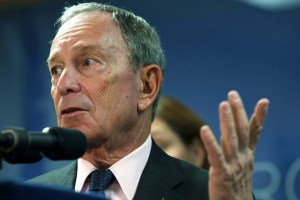 Though the bluster of the Chicago teacher strike calmed down last week, the tensions between teacher's unions and prominent mayors have not ceased. For his part, Mayor Michael Bloomberg is siding with his Second City counterpart, Rahm Emanuel, who pushed for changes to Chicago's public school system despite opposition from the local teacher's unions. Mr. Bloomberg discussed the situation this morning at NBC's third annual Education Nation Summit at the Bartos Forum of the New York Public Library.
"I think Rahm Emanuel, the mayor of Chicago, was quite right to move towards a longer school day," he said. "I also think Rahm was right in pushing towards evaluations as a reform that the Obama administration made as part of Race to the Top."
Mr. Bloomberg noted that, as in Chicago, the teacher's union in New York had not signed off on teacher evaluations. However, he pointed to the Race to the Top funding that requires evaluations as reason for the City's educators to change their tune.
"If the teachers do not meet with the city on an evaluation system we stand to lose a half a billion dollars in state and federal funding and I think it would be a catastrophe for our students if that happens," said Mr. Bloomberg.
The summit, which continues tomorrow and will feature an address by Barack Obama and an interview with Mitt Romney, brought in speakers to discuss education reform, such as former Secretary of State Condoleezza Rice and Secretary of Education Arne Duncan.
At the end of his address, Mr. Bloomberg, a strong proponent of charter schools, summed up his hopes for the summit.
"We have to make sure that our school systems are run for the students and not run for the people working. No business that doesn't focus on its customers and getting more for them survives," he said. "Education, I don't want to think of it just as a business, but in terms of management, from an objective point of view, it's exactly the same."
Mr. Bloomberg also used the summit to announce two new education initiatives focusing on pre-K, expanding access to pre-K enrollment by 4,000 spots and opening an Educare charter school.