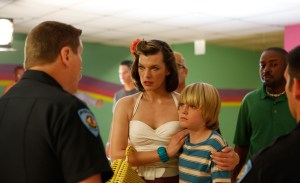 Sensitively acted, carefully written and directed with heartfelt compassion, Bringing Up Bobby is an engrossing little independent film made on an austere budget in 22 days. It marks the writing-directing debut of Dutch actress and former Chanel model Famke Janssen, a B-movie actress who specializes in playing tough, sexy, alternative women living in society's city limits in thrillers (House on Haunted Hill) and action epics like the X-Men franchise. Who knew she had so much hidden talent? 
The story is about a beautiful loser named Olive, a Ukrainian immigrant and single mother who has somehow ended up stranded in Oklahoma as a struggling con artist. (The tagline for the movie reads, "Meet Olive: mother, breadwinner, felon.") She came to America to escape a grim, deprived existence, because it's a place where you can do anything you want to do. What she does, however, is attend church socials to bilk gullible hillbillies out of donations for phony Christian charities in Europe, and write bad checks for used cars that an accomplice sells for enough profit to take care of her 10-year-old son, Bobby (Spencer List). He's her top priority, she loves him madly, and the goal is to make him the first person in her family to go to college. But Bobby is showing signs of being a chip off the old block. He steals, makes prank calls to the neighbors, throws cans at passing cars and gets Fs on his homework. Raised in the shadows of a misdemeanor a day, with a mom who is always one shapely foot ahead of the sheriff, Bobby thinks crime is cool, eagerly dreaming up inventive ways to join his mother's scams. When Bobby gets hit on his skateboard by a sleek convertible driven by a kind, respectable real-estate tycoon (Bill Pullman), it's the lucky break Olive has been hoping for. She sees dollar signs in her future, but before her inflated lawsuit against his insurance company can be properly investigated, her criminal past inevitably catches up with her, and Olive goes to prison. To save Bobby from the juvenile authorities, the kid is legally adopted by the man who hit him and his wife (Marcia Cross of Desperate Housewives), both of whom are still grieving over the loss of a son Bobby's age.
Eight months later, released and paroled, Olive sees so much improvement in the quality of her child's new life (chess lessons, art classes, private school and a swimming pool) that she is forced to rethink it all. To find a way back into the life of a child who may be better off without her, she has to go straight, turn over a new leaf and get a job. She does the best she can, but all she can manage is scrubbing toilets, living in a homeless shelter and carrying a sign around her neck advertising a muffler shop. Heartbroken, she's forced to make the toughest of decisions. The script stops short of one of those three-Kleenex, Moses-in-the-bullrushes finales, but there is no question that bringing up Bobby will never be the same.
Olive is clearly a role Famke Janssen could play wearing a blindfold, but for her directorial debut, she's hired the next best girl for the job. Milla Jovovich, who hit her stride as one of Richard Avedon's favorite models at age 11, is a perfect stand-in. There are times, at certain angles and in a soft light, when she even looks like Ms. Janssen. Like Olive, she was actually born in Kiev, although she never made an impact on the screen—until now. Clumsy trash like The Fifth Element with Bruce Willis and five installments of the Resident Evil pictures haven't elevated her career prospectus, but Ms. Jovovich displays such a keen awareness of her strengths that she brings out magical elements I never believed possible. She manages to make Olive both colorful and irresponsible, self-centered and big-hearted, infuriating and sympathetic, sometimes within the same scene. With her charming accent, Ph.D. in the school of hard knocks and unique way of murdering the English language, she keeps you riveted. Raising a toast, she giggles, "Down into hatch!" Misty-eyed and clueless, she's irresistible.
rreed@observer.com
BRINGING UP BOBBY
Running Time 95 minutes
Written and Directed by Famke Janssen
Starring Milla Jovovich, Bill Pullman and Marcia Cross
3/4