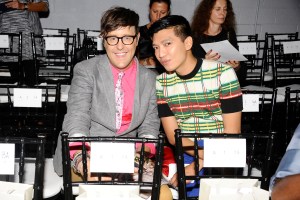 "We did a cover story on you—did you ever get to read that?" The Observer asked flamboyant blogger sensation, America's Next Top Model judge and jet-setting front-row fixture, BryanBoy (Bryan Grey-Yambao), before taking our seats at Yigal Azrouël's spring 2013 fashion show on Friday, September 7.
"No, no!" Mr. Grey-Yambao replied uneasily, shifting from side to side in a colorful plaid Marni top.
We were referencing Jenna Sauers's sensationally delicious article, "How Fashion Blogger BryanBoy Became a Front-Row Fixture," which ran in The Observer's February fashion week edition.
We had extreme doubts that Mr. Grey-Yambao had never read the exposé, which detailed his frivolous lifestyle, bizarre ascension to the top of the fashion blogosphere and mysterious background.
"Do you know anything about The Observer at all?" we pressed onward
"Yes, of course! Someone emailed me about working with you guys for fashion week coverage." [Editor's note: And we never heard back!]
Seeing that we were making little progress we moved on to other senseless bavard that fashion week victims inevitably resort to when one must pretend to care about the redundant and endlessly egotistical parade of style.
"So you've been everywhere. What has been your favorite so far?" we asked.
"I really liked Jason Wu!"
Predictable.
"Peter Som is my favorite, I really love the python," Mr. Grey-Yambao continued enthusiastically and with considerably more ease than when we had attempted to interrogate him about The Observer's profile on him. Fashionistas don't like skeletons in their closets, they prefer Pucci and Céline; skeletons are best left for the runway.
"Tell us about Yigal," The Observer asked, trying to add some relevancy to the conversation.
"He's very contemporary and women can wear it on a day to day basis," Mr. Grey-Yambao answered.
"How are you combatting the heat?" we questioned, sweat beading on our brow
"Drink a lot of water. I'm so thirsty! I drink a lot of water and try to sit and remain calm," he said.
Lies! You've been escorted in a meticulously climate-controlled town car between each show. Try rushing from show to show on the MTA and clammy taxis.
Annoyed we retreated to our seats to be miserably bored by someone else.