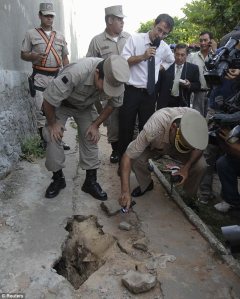 Normally, when you break into a home, you steal what's inside. Taking a page from hedgehogs and jackrabbits, Shawn McAleese got dig and instead robbed the neighbors, hitting eight different businesses in the wee hours of the morning during a two-month spree this summer.
On August 27, in New York State Supreme Court, the defendant pled guilty to eight counts of burglary in the third degree. Today, Manhattan District Attorney Cyrus Vance announced his sentence: a 28 to 56 year stint in state prison. That is stiffer than some murders.
Mr. McAleese, 43, broke into at least eight residential buildings in the Flatiron District, Hell's Kitchen, the Upper East Side, Murray Hill, and Central Harlem between May 3 and June 30 of this year. Basically, all over town.
"He not only violated the sanctity of private homes by breaking into residences, but also used those apartments as launch pads to steal from nearby businesses," Mr. Vance said in a statement. "Theft from a business doesn't end at emptying the cash register – it jeopardizes the job security of those who work there because it affects the bottom line."
The residential buildings for this belligerent burglar, though, were mere gateways to greater things. Mr. McAleese chose his residential targets according to their relative proximity to restaurants and bars. He used them to gain access to alleys or to dig his way through walls into neighboring businesses.
Mr. McAleese's appetite for thievery saw him raid an array of eateries throughout the city. His foodie inclinations, though, were clearly not the deciding factor when it came to choice of where to cull. Among the places struck were Molly's Irish Pub and the desert shop Kyotofu in Hell's Kitchen; chic organic canteen Bareburger in the Meat Packing District; a Chipotle on the Upper East Side; and The Famous Chicken Place in Murray Hill.
One thing we remain unable to gleen from the objects of his offense, is Mr. McAleese's taste and preference of culinary delight. But at least he should have no problem digging his way out of the slammer.