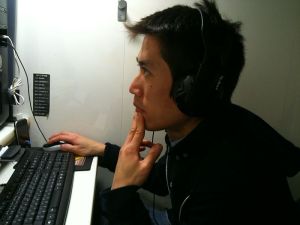 The life of a successful writer isn't as lucrative as Franco or Franzen would have you believe. Just ask Tao Lin: Saturday evening, the micro-messaging wunderkind sent out a tweet asking if anyone wanted to buy his stuff. All of it. Like, all of it. (The tweet has since been taken down.)
Some sort of viral marketing stunt? Maybe, but he's done this kind of house cleaning before. Since we were in need of a good microwave, we took the bait and emailed him. Within five minutes, we received a reply:

"i don't have a microwave, i do have a used but good juicer for $50 + $5 shipping (bought for $99)

and a metal bed-frame with wheels for any-size-up-to-queen bed that i packaged to return to amazon but never mailed to them (too late to send back now) for $40 +5 shipping (bought for ~$120)"
What about non-antibiotic medication? He could do that, too.
Was Mr. Lin eschewing all earthly possessions to obtain a higher level of consciousness (one in which all thought would be communicated via Gchat acronyms)? Doubtful, since he also emphasized that he needed the money NOW, sent via PayPal. Did he have a huge gambling debt? Owe money to the powerHouse Arena mafia? Need some capital to invest in a pop-up store with Moby that only sold vegan milkshakes?
Sadly no, he explained in a follow-up message:
I'm selling anything people want, I'm about to put my previous MacBook & stuff from college & high school on eBay. What prompted it: I don't have any money and am waiting on the 2nd installment of my advance & 1st payment from teaching at Sarah Lawrence, but those aren't coming in for at least ~10-20 days.
We didn't need a juicer, and the bed frame seemed just … weird, but how often do opportunities like this come along? We bought a collection of books (his choice) for $50, which he promised would come with a nice handwritten note. But think of the possibilities! Tao Lin's T-shirts, possibly stolen from American Apparel! Tao Lin's high school diary! His vinyl collection! The idea for that milkshake pop-up!
For the right price, you can probably have him show up to your reading at Housing Works and clap really loudly while shaking his head as if to say, "Wow, that guy is good."
The possibilities are endless. Take advantage of them before he gets his Sarah Lawrence paycheck.