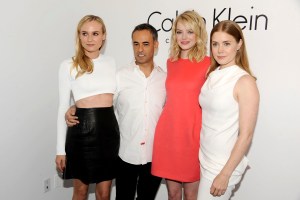 We love the clean lines and abstract nature of Francisco Costa's designs for Calvin Klein Collection. Of Brazilian descent, he has an unmatchable talent for creating wearable art that is minimal and wearable—perhaps the only one who provides a Parisian level of artistic thrills in New York.
We had some time to spare before the show began—a departure from our general habit of sprinting four blocks and arriving sweaty and out of breath at the last minute. We left our seat-mates Bianca Jagger, Julie Macklowe and Kelly Klein, to name a few, to explore the front rows.
Amy Adams, Diane Kruger, Emma Stone and photographer Patrick Demarchelier were all present, but our vigilant eyes sought out someone less obvious: W Magazine's Fashion and Style Director, Edward Enninful.
"What are some of the highlights for you?" The Observer asked.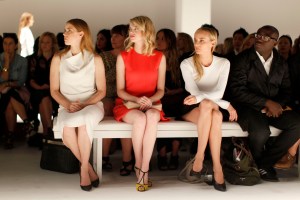 "Oh my goodness, there have been a couple of really great shows. I really enjoyed Proenza [Schouler]. I really enjoyed Rodarte, Marc Jacobs," he replied, browsing the endless catalog of styles he had presumably witnessed in the past week; an unbearable fashion overload, it seems.
"How have you enjoyed W and growing there?" we carried on.
"With a great team, there is so much freedom … It kinda of encourages you to do the best you can. We're having a ball!" Mr. Enninful told The Observer.
Indeed, but is the ball worthwhile, we wanted to know. "Why is fashion week so important for stylists?"
"It's like the Oscars of fashion. It's like a get-together on one hand, and you decide how the whole year is going to be, how the whole season is going to be mapped out. September is the January of fashion."
Well put. We bid adieu to Mr. Enniful, who was off to London in a few hours for more style and mayhem.
There was a sense of powerful austerity and dark romance for spring 2013, and it delivered a bold, physical (read: sexualized) reaction. There is a curiosity to the clothing, one that our fashion eyes could not decipher. Chiaroscuro, cinched waists and overemphasized busts, and innovative fabrics captured the fashion frenzy's weary attention. The looks featured interesting moiré appearances, glossy leathers layered over tranquil matte crepes and cotton voiles in muted black, reed and cream colors. It highlighted a richness that was not opulently crass.
A novice would have likened the proportions of several dresses to rolls of toilet paper under silk or waxed netting over a cage, but such individuals shouldn't even be permitted to grace a Calvin Klein Collection boutique.
To end with a bang is no small feat after innumerable ready-to-wear collections of relatively unmoving, routinely practical and safe proportions. American's sportswear isn't in a rut; it just is what it is. How lucky we are to have Calvin Klein's Mr. Costa. We don't have any callous commentary, just rare bliss, which sadly ended the moment we exited onto ghastly, repulsive 39th Street.