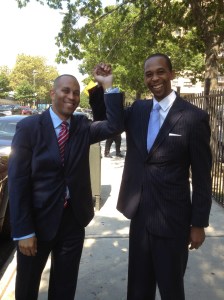 Hakeem Jeffries isn't officially a congressman yet, but the rising Democratic Party star is already facing the first major test of his political power since he won the Democratic primary for New York's 8th Congressional District June 26. With that victory, Mr. Jeffries virtually guaranteed himself a ticket to Washington to represent the overwhelmingly Democratic Brooklyn district following the general election in November. However, there is still the matter of who will replace Mr. Jeffries in the State Assembly seat he vacated to pursue his congressional campaign. Mr. Jeffries is backing District Leader Walter Mosley to succeed him in the 57th Assembly District, but Mr. Mosley has two tough opponents in that race today and insiders are keeping a close eye on the contest to see whether Mr. Jeffries can deliver his old district to his chosen heir.
"I know all three candidates, but I've worked closely with Walter over the last six years that I've been in the Legislature. We've worked on a wide variety of issues of significance," Mr. Jeffries told Politicker this afternoon. "He's been there as a close ally to help improve the quality of the public schools in the neighborhood, fight to stand up for senior citizens, to reform the NYPD's stop-and-frisk practices, fighting with me to create and preserve affordable housing. On every single issue of significance, Walter Mosley has been there. There are going to be some very important issues to be decided in the State Legislature moving forward and I have the greatest degree of confidence in Walter that he can continue the work that needs to be done on behalf of the people in this wonderful community.
Mr. Jeffries said he expected Mr. Mosley's race to be "close" due to "very low turnout," but he said he was "cautiously optimistic."
"We've brought a considerable number of people into this race who got to know Walter during my congressional campaign, and got to like him and appreciate the skills that he brings to the table as a pub servant," said Mr. Jeffries. "Every race is different and a congressional race is a high profile one that attracts people from all over the community, the borough and the city. This is a different type of race. It's much more localized, but we still have a tremendous organization that we've put out in the community. The UFT and a variety of other labor organizations have come in. They're doing tremendous work on behalf of Walter and I'm confident that, at the end of the day, we'll prevail."
In addition to Mr. Jeffries, Councilwoman Letitia James, Manhattan Borough President Scott Stringer, Public Advocate Bill de Blasio and 2013 mayoral candidate Bill Thompson hit the streets today to campaign for Mr. Mosley. Mr. Jeffries and Mr. Mosley focused most of their efforts on two locations their staffers described as the "battlegrounds" of the district–the polling places at P.S. 270 in Clinton Hill and P.S. 375 in Crown Heights. For much of the day, the two men switched back-and-forth between both schools greeting potential voters and handing out campaign literature.
We talked to Mr. Jeffries outside P.S. 375 at about two this afternoon. Shortly after our arrival, Mr. Mosley showed up to relieve him.
"We're very systematic in terms of where we position ourselves," Mr. Mosley said. "We understand that those two polling sites are bellwether sites for this district even though we anticipate low voter turnout. Even in spite of that, these two sites, 270 and Jackie Robinson are really sites that have always historically exceeded the State and City average."
Mr. Mosley said he was "very optimistic" about his chances. However, his opponents have some impressive backers of their own. Ola Alabi, who is also a District Leader, has earned endorsements from several major unions;  UFCW Local 1500, District Council 37, DC 1707, AFSCME, AFL-CIO and the Retail, Wholesale and Department Store Union. Ms. Alabi also was endorsed by the New York Daily News and multiple political clubs including; the LAMBDA Independent Democrats, the Jim Owles Liberal Democratic Club, the Stonewall Democratic Club of New York City and the 57th Assembly District Democratic Organization. The third candidate in the race, Martine Guerrier, picked up the influential endorsement of the New York Times.
For her part, Ms. Alabi seems unconcerned about Mr. Jeffries helping her rival.
"Where was that? Where was the large organization?" she asked when we asked her if she was confident of her ability to defeat Mr. Mosley given the support he received from Mr. Jeffries.
When we explained to Ms. Alabi that we were referring to the many elected officials and volunteers who were working with Mr. Mosley and Mr. Jeffries, she remained unconcerned.
"I don't know that that's organization. I know that that's electeds, but I don't know that that's organization. I saw Scott Stringer out here, I mean, they all spent a few minutes. I don't know that's a large organization," Ms. Alabi said. "I do know that we did the work beforehand, we knocked on a lot of doors and I do know that, ultimately, I think the hard work does matter in these types of races."
Ms. Guerrier told us she admires the organization put together by Mr. Mosley and Mr. Jeffries but also sees the strength of the area's political establishment as evidence of the need for a change.
"I respect the Assemblyman and I'm glad that he made it to Congress. That opens up an opportunity for the rest of us to … offer new leadership for the community," said Ms. Guerrier. "As for Mr. Mosley's operation, it's admirable. It's amazing to see what having county support and institutional support can do for someone and it's one of the things that I'd like to see balanced out by some campaign finance reform, you know, finding mechanisms for community people and folks that aren't connected in that deep way to make headway."
Ms. Guerrier also told us she thinks she has a "one in three chance" of winning.
Outside P.S. 375 this afternoon, we didn't see many voters headed to the polls, but we did see people handing out flyers for both Mr. Mosley and Mr. Alabi. Yves Sainnoval was wearing a green "Alabi" t-shirt and giving out the campaign's literature, but he said he had been paid to distribute the materials didn't know much about the candidate.
"I'm working for them," Mr. Sainnoval said. "Really, I don't know that much about it."
About a half-a-block away, a woman named Kim Wallace was distributing flyers for Mr. Mosley. She said she became aware of him after originally volunteering for Mr. Jeffries' congressional campaign. We asked her how many other supporters of Mr. Jeffries were volunteering for Mr. Mosley today.
"Quite a few. I can't even count, that's how many," said Ms. Wallace. "The same people I see from when I was doing Jeffries, I see the same people doing Mosley."
Polls close tonight at 9 p.m.
(Updated with comment from Ms. Guerrier 8:13 p.m.)