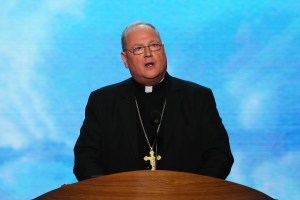 Though the Catholic Church may not be known for its quickness, Cardinal Timothy Dolan made a few changes to his political prayer in the week between the Republican and Democratic National Conventions. Dolan's Democratic prayer largely mirrored the words he gave to Mitt Romney and company at the Republican National Convention last week, with a few tweaks that injected a little bit of the pastor's politics.
Most notably, he poked at the Dems' pro-choice platform, praying, "We ask your benediction on those waiting to be born, that they may be welcomed and protected," adding "that they may be welcomed and protected" from his Republican blessing. Conservative bloggers and Tweeters celebrated the speech as pro-life.
He also echoed his Republican speech calling for "respecting the laws of nature and of nature's God," asking for help to "resist the temptation to replace the moral law with idols of our own making, or to remake those institutions you have given us for the nurturing of life and community."
Dolan said on his Twitter account yesterday before the prayer, "As I did at the RNC, I go as a pastor. Not to endorse any party, platform, or candidate."
In addition to his reference to abortion, analysts have interpreted one of those life and community institutions that shouldn't be remodeled as strictly heterosexual marriage. Dolan had come out against the Albany bill that passed same sex marriage last summer.
While the pastor's politics may have been in code, members of the Catholic gay community took notice of the remarks. "I think he alluded to the institution of marriage," said Francis DeBernardo, executive director of New Ways Ministry, an organization for Catholic gay and lesbian issues founded in 1977. He continued "I think what [Dolan] fails to grasp is that marriage equality laws do not remake the institution of marriage, but they simply expand the institution to people who want to commit in love to one another and these laws carefully protect all families in society."
Jeff Stone, a spokesman for local Catholic LGBT group Dignity New York, feels a split between the cardinal and ordinary Catholics on gay marriage. "It's a position that's at odds with most ordinary Catholics now." Mr. Stone preferred the DNC speech of Sister Simone Campbell, the director of Catholic social justice organization Network, who denounced vice presidential candidate Paul Ryan's budget. "I think she exemplifies the split between the Catholic hierarchy and the ordinary Catholic."