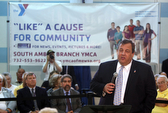 SOUTH AMBOY – As quickly as Gov. Chris Christie made mention of the state's projected revenue shortfall for the last fiscal year, the governor moved on and urged residents at today's town hall here not to trust Democrats who he painted as reckless spenders.
The governor asked residents to remember that "now as we're getting better" economically, "are you really going to count on the people who got us into" the position the state's in now? Christie made brief mention of a revenue shortfall projected by the state's Office of Legislative Services.
"Now they're saying we're going to have a little bit of a shortfall," Christie said at a South Amboy town hall meeting Wednesday, quickly moving on to use language to paint Democrats as the irresponsible spenders in the state.
"Imagine where we'd be if I had not cut a billion dollars (off their last budget)," Christie said.
The rare public statement by the governor that New Jersey may fall short of his administration's projected revenue goals comes as Assembly lawmakers are meeting in the Statehouse to discuss state revenues.
Christie didn't make any other mention of a possible revenue shortfall or the Assembly committee meeting, except to say that the Legislature has not done meaningful work in recent months except to "say some nasty things about me" during committee hearings.