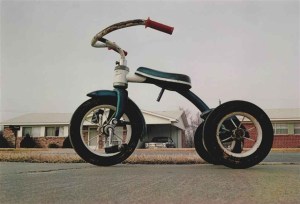 On Oct. 4–5, Christie's will present a photography sale that, over the course of two days, will present historic and contemporary works by photographers Diane Arbus, Peter Beard, Robert Frank, Edward Weston, Francesca Woodman and Hiroshi Sugimoto among many others. Also up for auction will be a 1980 dye-transfer print by William Eggleston, Memphis (Tricycle), the same image that caused a stir when the photographer offered a new, larger-format print of it at Christie's in March as part of a sale that included some new prints of his photographs. That sale benefited his foundation.
The sale kicks off on the evening of Oct. 4 with a sale of 45 works of fashion photographs by a variety of photographers including Irving Penn, Helmut Newton and Francesca Woodman. (This sale complements a separate, single-owner sale also that evening of works by Richard Avedon.)
Other highlights of the photography sale are Peter Beard's Orphan Cheetah Triptych (1968), which is estimated to sell for $100,000-150,000, and "Gifts to a Master Printer: Photographs by Henri Cartier-Bresson," a sale of 32 photographs from the personal collection of Peter Turnley. The collection, which includes many beloved images by Henri Cartier-Bresson, is expected to bring in more than $400,000.
As for Mr. Eggleston's Memphis (Tricycle), the work represents a lot of seven works by the artist. A print of the same image, created in a much larger size—roughly five feet wide as opposed to the 17 inches of the vintage print—was sold in March, also at Christie's, at the "Photographic Masterworks by William Eggleston," for $578,500. The sale, which far surpassed the high estimate of the work ($300,000), is at the heart of a suit against Mr. Eggleston, by a collector of his work who claimed the newer print would undermine the value of the vintage print in his collection.
The vintage print of the tricycle up for auction in October is estimated to sell for $250,000-$350,000. Listed as number 13 in an edition of 20, it was sold to the present owner by the Lunn Gallery in Washington, D.C., around 1980. Though a single lot cannot indicate the overall health of a market, it will no doubt be closely watched as a result of the continued controversy over Mr. Eggleston's sale of new prints of some of his iconic works.