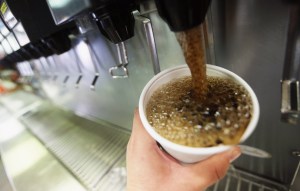 Earlier this afternoon, the New York City Board of Health officially approved its plan to ban larger soda cup sizes at restaurants and concession stands, and, barring a successful lawsuit and a court order, the initiative will take effect in six months. And although a majority of the city's residents disapprove of the move, at a press conference, a testy Mayor Bloomberg repeatedly told reporters the ban won't be as controversial as it seems.
"I think it's fair to say there's no evidence that it will hurt their business," he said about restaurants arguing the requirement will affect their bottom line. "Maybe outside of the limelight of newspaper or television camera, they would probably agree that down the road, what's likely to happen here, what's very likely to happen, is eventually they will just transition pretty much everything and change the public's taste. Why? We cannot continue to have our kids come down with diabetes at age 6. If it was one of your children I think you'd be out there with a very different kind of question."
At times, Mr. Bloomberg seemed exasperated by questions about the ban. For example, one reporter asked how he knows soda, which has been part of Americans' diet for some time, is responsible for the surge in obesity.
"Miss, I don't know how to answer your question if you don't have any understanding of science whatsoever," the mayor answered. "It's just thermodynamics, if you put in more calories in than you burn up, you're going to store it. Storage of calories is called fat and we'd be happy to provide some information for you."
Another journalist pointed to a restaurant owner who complained that customers would buy soda at a nearby convenience store, which would not be regulated by the proposal.
"Okay, come on!" he responded. "There's nothing to say. I'm sure you can find somebody who will do that. We're talking about saving lives and you're talking about a hypothetical."
The questioner said the restaurant owner he talked to argued this is already happening, suggesting it will only increase under the new rules.
"And how many times has it happened?" Mr. Bloomberg shot back. "Before you allege –. You're trying to imply –. Maybe it is! Get the facts before you start. In any case, the Board of Health has approved this. … We're talking about doing what's right for the public."
At another point, he stressed that it might be easy to find complainers for news reports, but that doesn't mean it's an accurate portrayal of what New Yorkers actually think.
"If you look at the comments we got sent to the Department of Health and Mental Hygiene, it was 36,000 in favor and 6,000 against, or something like that," he said. "This is not going to be a controversial thing. I'm sure you can find somebody to put on the radio or in your article or on your television show that says this is going to be the end of the world."