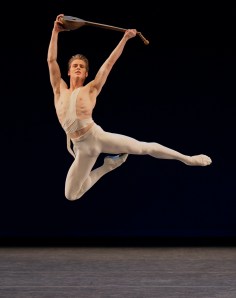 FOR A FEW DAYS, you could let yourself believe that City Ballet was a serious organization. After all, who can quarrel with the austere Balanchine-Stravinsky triple-bill of Apollo, Orpheus and Agon—the "Greek trilogy," as it's being cannily labeled?
Then, last Thursday, the Gala struck, and there we were again, trapped in Gimmicksville.
Why, you may wonder, would City Ballet be "Celebrating legendary fashion designer Valentino?" Not, as Peter Martins tells us in a mercifully brief if confused film, because the two men were old friends—Peter Martins has other old friends. Presumably he knew he could bring in a lot of Valentino chums and hangers-on to buy up expensive tables at the post-performance dinner and guarantee that a lot of paparazzi would be snapping away at all the off-the-shoulder gowns. Sorry, Peter—you can't celebrate Balanchine and Stravinksy one night and Valentino the next. This is called sending mixed signals, or, if you're feeling pretentious, cultural schizophrenia.
The evening might have succeeded if the Legendary One's costumes worked, but they didn't—they were showy fashion statements into which dancers had been poured and constricted. Poor beautiful Maria Kowroski was togged out in a striking red ruffled gown marred by a big bunchy thing at the neck that destroyed her line—this in a throwaway Martins duet called Sophisticated Lady that came and went years ago and should have been left in ballet limbo. The redoubtable Tiler Peck couldn't prevail over the pancakey tutu that disfigured her in another dusted-off Martins duet, Not My Girl. (Fortunately for her partner, Robert Fairchild, his dinner jacket didn't get in the way of his charming hoofing.) And Wendy Whelan, whose unusual body configuration needs all the help it can get, got none from the green schmatte she wore in This Bitter Earth, a preview of one movement from Christopher Wheeldon's upcoming Five Movements, Three Repeats, set to an over-arranged version of Dinah Washington's famous recording.
The climax of Valentino's participation was the premiere of Martins's new Bal de Couture, to music culled from Tchaikovsky. Of the 20 dancers, 18 were principals, and two were soloists. All to no avail—the choreography is so generic and the dancers' roles so lacking in individuality that they could have been anybody from any ballet company. For the record: the first section was a fashion show, with nine couples coming down ramps, the women swooshing their pouffy black-and-white dresses and the men parading their elegant dinner jackets. Oh yes—then they all waltzed around, skirts swirling and flashing their red linings and revealing their (distracting) bright red shoes. To provide a break from all this formulaic waltzing, in wandered Janie Taylor in a pale mauve creation dripping long floppy sleeves and looking like a distraught moth in some kind of fraught duet with Sébastien Marcovici (jacketless, and with an open white shirt to indicate passion). They were interrupted by Fairchild, who also fraughted around with Taylor before handing her back to Marcovici and vanishing. Is this the start of a plot-line? No—the swirlers are back swirling until the whole thing just stops. The moth is history. Bal de Couture is supposed to be back in the winter season. Don't hold your breath.
But bad ballets are commonplace. The deadliest gimmick of the evening was a performance of "Rubies" in which three different couples danced the three sections, and two different women danced the tall girl. It really doesn't matter that teensy Erica Pereira was beyond irritating, or that some of the others were okay or more than okay. Switching dancers—twice—in the middle of a great Balanchine-Stravinsky ballet is just another sign of how City Ballet exploits its resources rather than honors them. At least the wonderful Karinska costumes weren't Valentinized.
NOT EVEN BAL DE COUTURE could efface the impression made by the Greek trilogy—not because the performances were sublime but because the ballets are. Apollo, the oldest Balanchine ballet we possess, was made in 1928 and changed the history of the art form. It's still one of the world's most performed ballets: we saw it in the spring at ABT, and just in the next few months it will be seen in Seattle, in Miami, in Moscow, and in Ljubljana. It's not only a masterpiece, it's practical: if done in the final Balanchine version, without the birth scene, it needs only four dancers, simple costumes, no set and a string orchestra. It's affordable.