Republican Congressman Michael Grimm's campaign office on Staten Island was allegedly vandalized and burglarized overnight. According to an email sent to reporters shortly after 2 p.m. by Mr. Grimm's spokeswoman, Carol Danko, workers arrived at the office this morning to discover multiple windows that had apparently been broken.
"Overnight, cement blocks were thrown through the windows of his campaign HQ located at 2582 Hylan Blvd. between the New Dorp post office and the Hylan Shopping Plaza on Staten Island," Ms. Danko wrote.
Politicker just spoke with Ms. Danko on the phone and she said Mr. Grimm is communicating with police and that he said, upon further investigation, the NYPD discovered computers inside the office had their hard drives erased. According to Ms. Danko, police believe the broken windows may have been a "cover up" to distract from the compromised computers.
Ms. Danko said that campaign workers left the office around 7:30 p.m. Saturday night and discovered the vandalism when they arrived at the office again around 10 a.m. today. She stressed that the information on the computers was already backed up and that the compromised computers did not contain the personal information of any campaign volunteers. In her email to reporters, Ms. Danko said the Congressman is currently "on scene" with the NYPD. Capitol Police have also been notified.
This isn't the first time Mr. Grimm has allegedly been targeted by thieves. Earlier this year, Mr. Grimm claimed a mailbox was stolen from his home in the New Springville section of Staten Island. According to Ms. Danko's email, Mr. Grimm "will be holding a press conference within the hour based on media availability."
Mr. Grimm is currently running for re-election against Democrat Mark Murphy. We asked Ms. Danko whether she felt this was tied to the race or Mr. Grimm's recent statements concerning the recent controversies in the Middle East over videos and cartoons that criticized the Islamic prophet Muhammad.
"The campaign does believe this is politically motivated. The police do not have any suspects at this time," she said.
Update (4:50 p.m.): Ms. Danko just sent out an official press release that included a statement from Mr. Grimm as well as photos and more details about the alleged vandalism and burglary at his office.
"Two large chunks of cement and smaller rocks had been thrown through the windows, breaking three 4'x8' vertical window panes," the press release said. "Police believe this was a cover-up for the burglary in which the suspect corrupted and erased the hard-drive of the campaign computer server, which contains confidential campaign files and polling data."
Mr. Grimm described the incident as an unprecedented "assault on democracy and the political process:"
"This is a disgraceful act of cowardice that is beneath the people I represent. Here in Staten Island, we are a family community, which is why despite our differences in opinions and political views, we have never seen an attack on a campaign escalate to this level. In 2010, campaigns across the nation were fueled with high levels of passion, yet even then we never saw anything as dirty or disgraceful as this. Even though this is not an official office, this heinous act represents an assault on democracy and the political process, more so than it does on me as person or a candidate.  I do believe this is a politically motivated crime, and will continue to work closely with the NYPD in identifying and prosecuting those responsible."
Update (5:07 p.m.): From Mr. Murphy's campaign spokesman Nathan Smith:
"There is never any place for violence or vandalism in an electoral campaign or political debate. We hope that the police quickly apprehend whomever was responsible for this criminal act and prosecute all parties involved to the fullest extent of the law."

When Mr. Grimm was notified of the alleged vandalism and burglary, he was at mass with Congressman Peter King.
The press release also noted "recent repeated" alleged thefts of "Grimm for Congress" advertisements and signs.
"This follows recent repeated thefts of "Grimm for Congress" lawn signs from the yards of supporters as well as the theft of a small billboard," the press release said. "In one instance, a video was recorded of a middle-aged woman walking a dog and stealing signs. The Grimm campaign plans to release the video to the pubic so that she can be identified and prosecuted."
Update (10:02 p.m.): Paul Browne, the NYPD's Deputy Commissioner of Public Information, provided Politicker with the following statement about the case:
"The campaign HQ of Rep Michael Grimm 2582 Hylan Blvd had three windows broken between 1930 hours on Sept 22 and 1000 hrs on Sept 23rd. It is being investigated as a criminal mischief. NYPD computer crimes will investigate further any assertions that computers there were tampered with."
Update: (4:05 p.m. 9/25): After taking criticism from fellow Democrats for his aggressive reaction to the incident, the crime turned out to be something much less sinister than Mr. Grimm feared: an 8th grader and his friend. The congressman now admits the alleged computer tampering may have actually been the inadvertent mistake of a campaign volunteer.
View the photos of the damage to the office provided in Mr. Grimm's press release below.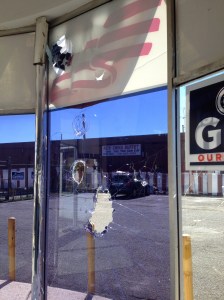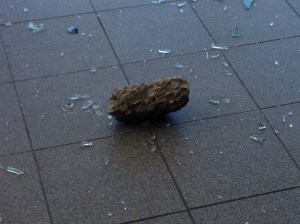 Additional reporting by Colin Campbell.