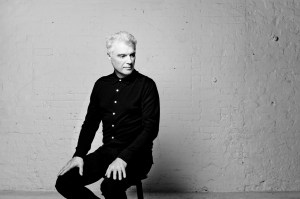 About two-thirds of the way into How Music Works (McSweeney's, 352 pages, $32) by David Byrne, one of rock music's most omniscient presences, there is a rare attempt at stark self-awareness: "The online music magazine Pitchfork once wrote that I would collaborate with anyone for a bag of Doritos," Mr. Byrne recalls. "This wasn't intended as a compliment—though, to be honest, it's not that far from the truth."
This helps explain why David Byrne the brand is getting, for lack of a better word, boring.
That's not to say that the former Talking Heads front man's output is of a diminished quality, or that there's nothing of interest in it. There is, however, something that feels dutiful about Mr. Byrne now—one doesn't so much genuinely desire to read his musical manifesto as feel strangely obligated to do so. (It's probably not a coincidence that I felt similarly about listening to his most recent musical project, an utterly predictable collaboration with the much younger musician Annie Clark, who records under the name St. Vincent.) There are legions of books—all those "For Dummies" guides, for instance—that try to answer Mr. Byrne's titular question. But those books aren't by the man who wrote "Girlfriend Is Better." So: read on. How Music Works isn't just a grand proposition; it's a serious one too, notwithstanding Mr. Byrne's cool dismissal, in his preface, of the idea that this is a definitive text on anything—neither music nor, for that matter, his music: "This is not an autobiographical account of my life as a singer and musician, but much of my understanding of music has certainly been accrued over many years of recording and performing. In this book I draw on that experience to illustrate changes in technology and in my own thinking about what music and performance are about."
By and large, the 10 chapters that follow cover much of what Mr. Byrne promises at the outset: knowledge that never gets too personal derived from his experiences as a listener, a creator and a businessman, in that order. The most enjoyable moments are those when he reneges on his prefatory claims and lapses into memoir. Mr. Byrne's lengthy description of how the Talking Heads shopped for their look after their first record was released is an out-and-out joy to read. A little later, he recounts the evolution of the Talking Heads' proficiency, but stops abruptly to ask what "being tight" as a band means today. It's not a rhetorical question: "It's hard to define now, in an age where instrumental performances and even vocals can be digitally quantified and made to perfectly fit the beat." Throughout the book, there are moments like this, hints at what would have been a better book—Mr. Byrne fully ruminating on his life and music—but he never allows these personal insights to take shape. His grumpy sentiment here is intuitive, and maybe even correct, but it reads like a self-conscious avoidance of writing about himself, a cutting off of things before too much is given away.
When Mr. Byrne's crankiness gets the best of him, though, it is all the better for the reader: there are two chapters on technology and music, and the second is titled "Crappy Sound Forever." He chastises seemingly the entire world of listeners for allowing music to be distilled into formats of lesser and lesser quality. It's at least entertaining. In a section on business and finance, he asserts, "I, for one, would not want to be beholden to Live Nation." Assisted by charts and graphs, he explains how the money that goes into the recording of a piece of music comes out of it—this is all rooted in hard numbers and, in the stronger moments, even harder experience. And the eighth chapter—"How to Make a Scene"—while not a step-by-step on how to rewrite the culture of live music in North Brooklyn, isn't a half-bad blueprint.
Even when Mr. Byrne is at his most impassioned, though, his book is never exactly a call to arms. Perhaps there is too little at stake. In the final chapter, he breezily runs through the neurological and societal foundations and implications of music (among other things), and the result is as highfalutin as it sounds. (The section bears an epigraph from none other than T.S. Eliot.) He skims these sprawling topics as neither a scholar nor a student nor a full-throated music-maker (even though he's clearly all three), but instead opts for the passive voice of the knowing—albeit detached—observer. It is likely the most evenhanded approach he could take in attempting to describe several centuries' worth of musical culture. His efforts are commendable, but the question on the cover is never really answered, even in terms of what it means to Mr. Byrne personally.
It's likely Mr. Byrne never set out to discover how music works. Throughout, he comes across as indecisive at best, uninteresting at worst. He ends by discussing pop music versus a more structureless cacophony, but it's hardly a conclusion: "I like a good story and I also like staring at the sea. Do I have to choose one?"
Of course not. He is, after all, David Byrne. Beyond that, why take a strong hand when you can take an even one? The book feels safe, sensible. The problem is that the reason we care about Mr. Byrne at all is because his musical work of decades past was all about not making sense, to paraphrase one of Mr. Byrne's lyrics. It didn't always work, but it was never boring.
editorial@observer.com