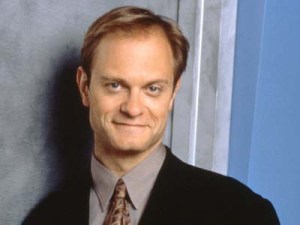 We doubt that David Hyde Pierce and husband David Hargrove made a scene when they signed the paperwork to buy another penthouse at 260 West End Avenue. After all, what deal to secure more space in Manhattan wouldn't be marked by smiles? But the sitcom star and Mr. Hargrove, a television writer and producer, certainly could have pulled off something magnificent if so inclined.
The couple has, it would appear, rather grand plans to spread out in the 1924 co-op at the corner of 72nd Street and West End Avenue. City records show they paid $1.9 million for a penthouse on the 16th floor. The couple already owns one penthouse in the building, which they bought for $2.5 million back in 2005, and promptly expanded the following year with an adjacent unit purchased for $775,000.
Mr. Pierce and Mr. Hargrove divide their time between New York and LA—but we suppose that the couple wanted a more comfortable perch in the city, especially with Mr. Pierce increasingly taking on stage roles here. What's more, in August Mr. Pierce and Mr. Hargrove sold their meticulously restored mansion in the Los Feliz neighborhood of Los Angeles for $7.05 million.
Perhaps Mr. Pierce's fictional rivalry with Fraiser co-star Kelsey Grammer has more than element of truth when it comes to New York real estate? After all, Mr. Grammer has been lounging in luxury in a $6.5 million four-bedroom at Jean Nouvel's 100 11th Avenue.
The West End Avenue penthouse, purchased from Joshua Gray and Deborah Loven-Gray, was listed for $3.75 million alongside unit 15A with Rand Realty NY brokers Nan Shipley and Martin Krasnoff. While the 16th-floor pad, with three bedrooms and two bathrooms, won't be expanding into a duplex as the Grays had envisioned, it will soon be part of a more expansive spread. Mr. Pierce and Mr. Hargrove must be well on their way to outdoing Mr. Grammer, as well as all the other residents of 260 West End Avenue, when it comes to magnificent real estate.
kvelsey@observer.com