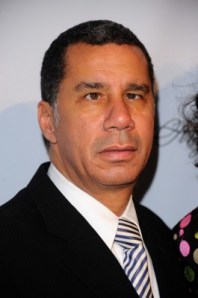 CHARLOTTE, NC — Politicker ran into former Governor David Paterson while he was working the room inside the CNN Grill at the DNC Wednesday and we asked him about all of the drama that surrounded the New York delegation at the convention. Mr. Paterson heaped praise upon Mr. Cuomo and the delegation's leader, Assembly Speaker Sheldon Silver, and he had harsh words for one of their critics,bat-wielding 2010 Republican gubernatorial candidate Carl Paladino.
"Carl Paladino should take that bat and hit himself in the head with it, it would do us all a favor," said Mr. Paterson.
Governor Andrew Cuomo arrived at the DNC yesterday after some confusion and speculation surrounding when and if he would make a convention appearance. Mr. Paterson said the Governor's decision not to reveal his convention plans earlier and to keep a low-profile at the DNC was part of a "brilliant strategy" of media avoidance that could propel Mr. Cuomo to higher office.
"I think that Governor Cuomo has learned a lesson from Governor Spitzer and myself, who showed up everywhere and were so transparent that it was self-destructive at times," Mr. Paterson said. "I think Governor Cuomo tries to be open, transparent and give out information, but he doesn't try to be part of the daily blog, 24 hour news cycle. And I think it's a brilliant strategy that might land him in the White House one day."
Mr. Paterson added that he doubted the recent drama in Albany, where Assembly Speaker Sheldon Silver is facing an investigation by a federal special prosecutor because he authorized $103,000 in public funds to be used for a settlement with one of the women who accused Assemblyman Vito Lopez of sexual harassment.
"There's an investigation and the Governor knew about that. … He's got nothing to do with that, he's made his feelings felt on the issue and he, unlike a lot of others who rush to judgement, very responsibly said, "Let's let the investigation tell us," said Mr. Paterson.
Since Mr. Paterson brought up the investigation, we asked him about an email regarding the settlement scandal that was sent out by the man who unsuccessfully ran to replace him in 2010, Carl Paladino. In his email, which was sent Wednesday morning, Mr. Paladino accused the press of being "spineless cowards" and said a special prosecutor was appointed because Albany politicians want "to bury" the issue.
"The press should be asking if it was quiet money to keep Vito's mouth shut about other topics? We'll probably never know the answer to that because the press will let the good old Albany establishment boys bury the issue with a Special Prosecutor investigation that will go on forever and result in nothing. Whenever politicians want to bury an issue they appoint a Special Committee or Prosecutor," Mr. Paladino wrote.
Mr. Paterson angrily dismissed Mr. Paladino's theory about the special prosecutor's investigation.
"Carl Paladino should take that bat and hit himself in the head with it. It would do us all a favor, because the federal prosecutor was because the King's County D.A. had a relationship with Vito Lopez," Mr. Paterson said. "If he had tried to prosecute that case, Carl Paladino would be the first to say, 'This is corruption.' So, Carl, shut up."
We also asked Mr. Paterson his take on the situation with Mr. Silver. He said the Assembly Speaker had earned his admiration by admitting he shouldn't have authorized the settlement without making it public.
"I did think he did something wrong. He should have publicized the settlement and he has admitted such, which gains a lot of my respect," said Mr. Paterson.