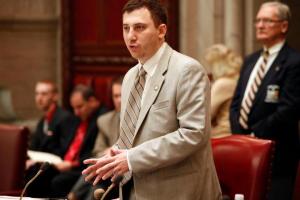 Over the past days, Republican State Senator David Storobin replaced the top levels of his government office and campaign operations, including his chief of staff, spokesman and campaign manager, according to sources familiar with the decision.
"I honestly don't want to comment, right now," Mr. Storobin told Politicker last night when we asked about his motivations for the changes, "I think it's better kept personal. It was the right move to make at this point."
Interestingly, the three staffers, Paul Gullo, Steve Stites and David Sieling, were all previously employed by Queens Councilman Dan Halloran at various points, as was documented by a Capital New York report focusing on Mr. Storobin and Mr. Halloran traveling to Israel together earlier this year.
Mr. Storobin's new chief of staff will be Pinny Ringel, who is currently the community liaison in his government office. Mr. Ringel previously worked for Public Advocate Bill de Blasio and then-Councilman Simcha Felder, who are both Democrats. Mr. Felder, of course, is also the Democratic nominee running against Mr. Storobin this year in a district that has been substantially reconfigured to contain the heart of Brooklyn's Orthodox Jewish community, where Mr. Ringel's name is well-established in political circles.
"Pinny Ringel, is an excellent choice to run my senate office," Mr. Storobin explained, extolling Mr. Ringel's virtues and resume. "He's very well-known, very respected in the community."
Mr. Storobin said he hadn't filled the other positions, but was considering David Simpson to handle his office's communications. Mr. Simpson was Mr. Storobin's spokesman during his upset special election campaign earlier this year.
Regardless of who he hires, Mr. Storobin certainly looks to have his work cut out for him as he runs for re-election. Mr. Felder is an accomplished fundraiser and recently scored a coup in a bold write-in campaign for the Conservative Party's ballot line. However, Mr. Storobin hopes the conservative drift of New York's Orthodox Jewish community will tilt things in his favor come Election Day.