American fashion design has seen an exciting new crop of talented youngsters creep onto the scene. Creatives such as Joseph Altuzarra, Jack McCollough and Lazaro Hernandez of Proenza Schouler, Alexander Wang, Jason Wu and Prabal Gurung have received a great deal of attention—and rightfully so. The majority of this bunch thrive on fanfare—not always on the design of their clothes, but on their front-rows, frantic check-ins and backstage dramas.
The Proenza Schouler duo, after several seemingly shaky years, have quickly become darlings of the global fashion elite, continually present interesting and attractive collections. Now sitting more comfortably with financial investments from Theory Group's Andrew Rosen and a glossy new David Adjaye-designed boutique (albeit too damn dark to see any of the merch), its safe to say they are no longer emerging.
Mr. Altuzarra's nomadic, opulent materials and prints seem to satiate the critics. Since PR Consulting has never invited us to one of his magical shows, we'll let him be.
Jason Wu's nearly flawless technique and practical glamour—not to mention being a favorite of first lady Michelle Obama—means he's fine and dandy.
Same for Thakoon Panichgul.
The Observer will save Prabal Gurung, whose miscellaneous but splendid collection delivered a meager dose of sensationalism, mostly by way of models, for later …
The most interesting "up-and-coming" designer to The Observer is Mr. Wang.
Alexander Wang's street-friendly sportswear, with its less daunting price tag and edgy wearability, enabled the designer's swift and massive surge to the top. The party vixen created clothing that catered to his entourage of downtown creatures—models, anorexic rich brats, svelte power gays, artsy drunks—with a cost-effective production (even though a lawsuit claims allegations of sweatshop conditions!). It's no Ralph Lauren or Michael Kors, but the Soho boutique is crawling with new money eager to pounce, and one insider reported that sales are robust.
"He came on the scene just at the right time," former Barneys bigwig Julie Gilhart was quoted as saying in New York magazine in 2011. Indeed he did.
The Observer is all too guilty of getting wrapped up in the Wang mystique. His shows are electrifying—a circus of outré celebs, aggressive fashion mavens and top-notch models. It's sensationalism—perhaps even smoke and mirrors, except there is always something to covet. This is followed by the perennial blackout nights of mayhem at his costly, booze-fueled after-parties. But hey! Mr. Wang and his baby empire can afford it.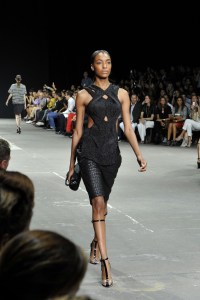 This season, Mr. Wang and his team returned to Pier 94. Tyson Chandler, Karen Elson, Justin Theroux, Sia, ASAP Rocky and Die Antwoord all showed up Saturday, September 8 to witness Mr. Wang's presentation of patch pocket separates, outerwear pieces with cut-outs or "zebra-embroidery," and weird textured skirts and shorts in onyx, glacier white and desert sand. There were hints of menswear tailoring on shirts, fishline craziness and skeletal knee-high sandals that had people clawing with desire. For luxurious touches, Mr. Wang and co. used stingray detailing and crocodile beading.
It would be nearly impossible to top of the pack of supermodels, led by Gisele Bündchen, who stormed the runway at last year's conclusion. Nonetheless, a gaggle of top models marched out in all-white looks. The lights dimmed and all their couture turned glow-in-the-dark.
The crowd ate it up like hotcakes, The Observer included. Tacky and stupidly club-kid-esque? Perhaps, but it was fashion entertainment at its American best.
But is this pot of fabulousness and spectacle about to bubble over?
One person, who wasn't enjoying the fashion feast was New York Times critic Cathy Horyn.
"Mr. Wang ended with his white dresses being lit up like neon glow sticks, but the mood couldn't be sustained," Ms. Horyn wrote in the Times on September 9. "But, despite the styling of Karl Templer, who knows how to sharpen a designer's message, Mr. Wang's fancifully sliced-up clothes seemed to hit a wall. They had focus in terms of minimalist shape and futuristic textures, but there was no moment of uplift. A glow-stick snap of radiance isn't enough."
A bit harsh.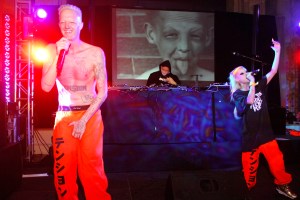 The Observer would argue (not that we are deemed fit to challenge the legendary Ms. Horyn) that Mr. Wang's shticks are exactly aligned with his boisterous lifestyle and extravagantly unfocused glamazon clientele. While we all might have been distracted by the blow-'n'-glow finale, The Observer is already sorting out the finances to scoop up a few of those garments and accessories. The scattered message rang loud and clear: Rave on!