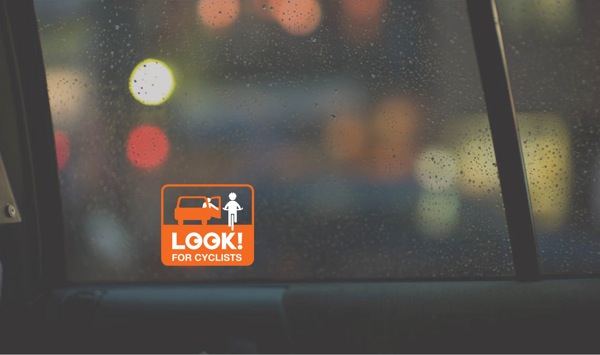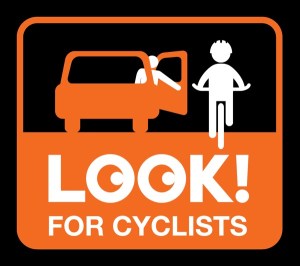 Last week the city's Department of Transportation (in partnership with the fed's Department of Transportation) unveiled new LOOK! crosswalk decals and bus banners to remind pedestrians and drivers to pay attention to each other while making their way across the busy cityscape.
Now the department, along with the Taxi and Limousine Commission, has unveiled new stickers that will adorn the doors and windows of the city's 13,000 cabs. They implore occupants to "LOOK! for cyclists." These are accompanied by a new 30-second spot in everybody's favorite ad-viewing venue, Taxi T.V.
"This safety campaign takes the message to New Yorkers and visitors that you need to take a second and take a look around whenever you get out of a car," Transportation Commissioner Janette Sadik-Khan said in a release. "The best protection that bike riders and pedestrians have is our attention, and there is one thing everyone can do—look."
The idea is to make cab riders, especially those who might not be from town, more aware of their surroundings. The city has recorded seven deaths because of dooring incidents over the past five years.
Like all good taxi ads, TLC commissioner David Tassky said these new spots will really get people's attention: "We believe the stickers and video will really resonate with riders and inspire them to pause for that critical second before they open the door and exit the taxi. It's that moment of pause that could make all the difference in the world to both a bicyclist and the taxi passenger alike."
[youtube http://www.youtube.com/watch?v=LcprI3xFf24]