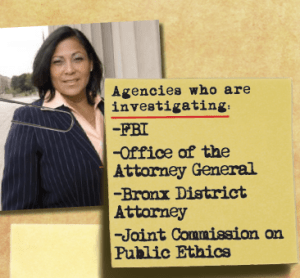 Primaries across the city are reaching heating up, and Assemblywoman Naomi Rivera's reelection campaign is no exception. Over the past few weeks, Ms. Rivera took constant hits about alleged unethical conduct from the New York Post and other outlets. Her main primary rival, Mark Gjonaj, gleefully used the flaps in campaign mailings slamming the incumbent. However, Ms. Rivera is capable of firing off shots too and a source in the district provided a copy of her campaign mailer attacking Mr. Gjonaj for living in a neighboring assembly district, which you can view below.
"Mark Gjonaj is spending big bucks too try and become our assemblyman, but the truth is, he doesn't know our community at all," a campaign mailing declares. "Truth is Mark Gjonaj is raking in the big bucks as a wealthy landlord while actually living on exclusive City Island. Mark Gjonaj wants to go to Albany to help his rich landlord friends get more money out of our pockets."
But another campaign mailer now circulating the district this week hits Ms. Rivera back even harder. The flier, which presumably emanated from Mr. Gjonaj given its professional quality, is designed to look like an actual FBI case file for Ms. Rivera, laying out the evidence of her alleged misdeeds and listing her "Trial Date" as" TBD."
(Also in the race but throwing a few less punches are Adam Bermudez and Irene Estrada-Rukaj).
Voters head to the polls in less than 48 hours, and it will be interesting to see what effect the allegations against the incumbent have on the final margin.
Click on the images below to view larger versions of them: