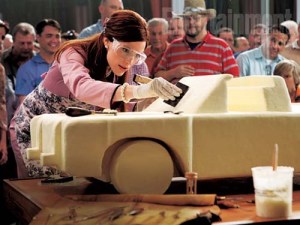 The Master
Paul Thomas Anderson
Joaquin Phoenix, Philip Seymour Hoffman, Amy Adams
September 14
This long-deferred movie actually couldn't have been better timed. An apparent allegory for the creation of Scientology, The Master comes along just as public interest in the (alleged!) money-grubbing cult is at an all-time high, post-Tom/Katie divorce. In this telling, Philip Seymour Hoffman is the L. Ron Hubbard-like figure who snares untold numbers of believers into his thrall. Plot details, per Paul Thomas Anderson's standard, are hazy, but the trailer reveals simply that Mr. Anderson has kept up his keen attention to aesthetic compostion–and that Amy Adams, playing a devoted cult wife, may be this film's MVP. Can we arrange for Katie Holmes to present her the Oscar?
Killing Them Softly
Andrew Dominik
Brad Pitt, James Gandolfini, Sam Rockwell
September 21
Andrew Dominik's follow-up to the much-loved, little-seen Assassination of Jesse James by the Coward Robert Ford jumps forward in time–it's a modern-day store of mobland America, based on a pulp crime novel. The movie was a hit at Cannes, and may be yet another feather in the cap of good-looking weirdo character actor Brad Pitt, who plays a hitman's assistant, or "point man." The whole thing promises to be a real boys' club, with costars like Richard Jenkins, James Gandolfini, and Ray Liotta, who knows a thing or two (actually, just one thing) about mob movies.
Butter
Jim Field Smith
Yara Shahidi, Jennifer Garner, Ty Burrell
October 5
Little is really known about this long-delayed satirical film. How long-delayed was it, you ask? The early buzz was that Jennifer Garner's character, a housewife and competitive butter-sculptor, was based on Presidential front-runner Michele Bachmann. Director Jim Field Smith hails from the U.K. but takes on heartland rituals in this look at the dairy-art circuit, whose protagonist is an adopted orphan daring to take on the longtime champions (Ms. Garner and Mr. Burrell). Somehow, Hugh Jackman, Olivia Wilde, and Alicia Silverstone fit into this puzzle–no word on what Ms. Silverstone, noted vegan, did around the enormous blocks of milk product.
Argo
Ben Affleck
Ben Affleck, Bryan Cranston, Alan Arkin
October 12
Ben Affleck, flamed-out Hollywood star, has had a successful second career as the director of Boston heist pictures, but his third directorial effort, Argo, finally takes him outside of the old neigborhood. Mr. Affleck stars as a CIA officer who comes up with a cunning plan to rescue escapees during the Iran hostage crisis–he fakes the production of a sci-fi movie (Iran makes a lovely moonscape, after all) and attempts to airlift out the Americans, pretending they're crew members. Sounds fairly tidy, but we're sure complications will ensue–and we haven't even read the Wired article on which the whole thing's based!
Cloud Atlas
Tom Twkyer, Andy Wachowski, Lana Wachowski
Tom Hanks, Hugo Weaving, Halle Berry
October 26
Everyone believed that the mammoth David Mitchell novel, encompassing millennia of human experience, was unfilmable. And maybe everyone was right! All we know right now is that the Wachowskis (of the Matrix films) and Tom Twkyer (of Run Lola Run) have turned all of their creative over-enthusiasm towards putting together the most rollicking movie ever to contain both a Martin Amis-style comedy of manners and a post-apocalyptic agrarian community on Hawaii. Somehow, major stars like Tom Hanks and Halle Berry fit into the equation. As you read this description, you're already significantly behind; you'd better start reading Cloud Atlas this minute if you hope to have it finished and marginally comprehended by October!