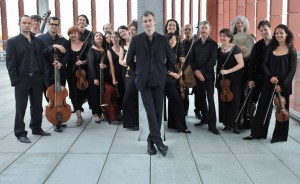 Le Poème Harmonique
The Miller Theatre at Columbia University
September 12 and 14
The photogenic and ultra-talented French early music ensemble Le Poème Harmonique opens the Miller Theatre's season with "Venezia"—candlelit, semi-staged performances of songs by Monteverdi, Manelli and others. Expect lots of period-appropriate drama, as the group, which focuses on 17th and 18th century music, interprets works like Ferrari's "Chi non sà come amor" and madrigals by Monteverdi. Music director Vincent Dumestre leads a production that uses vocal ornamentation and historic gestures to bring to mind life in 17th century Venice during Carnival.
Piano Competition Finals
Paul Hall at the Juilliard School
September 21
The competition will be cut-throat and the tension high for the finals of this Juilliard piano competition. Open to the public, it will feature students performing Rachmaninov's "Rhapsody on a Theme of Paganini," with the winner returning to perform the work with the Juilliard Symphony Orchestra October 24, 2012. Rachmaninov composed and premiered his "Rhapsody" in 1934; it is a set of variations on Paganini's 24th Caprice, and is perhaps best known for the sweeping 18th Variation. Russian-born Semyon Bychkov conducts the October concert, which will also feature Brahms's Symphony No. 4 and Dutilleux's "Metaboles."
L'Elisir d'Amore
Metropolitan Opera House
September 24
One of Donizetti's best-known and oft-performed operas opens the Met's 2012/2013 season with a gala. L'Elisir d'Amore—The Elixir of Love—sees Russian star Anna Netrebko, who first worked in opera washing floors at the Mariinsky Theatre, in the role of Adina, the wealthy landowner who enchants Matthew Polenzani's peasant Nemorino. The usual operatic trappings—shifting financial circumstances, a snake-oil salesman, and a military on the move—are all scored to a libretto by French playwright Eugène Scribe.
Sphinx Virtuosi at Carnegie Hall
Stern Auditorium/Perelman Stage
October 9
Comprising alumni from the Sphinx Organization's eponymous yearly string competition, this conductor-less chamber group makes yet another stop at Carnegie Hall. Sphinx was created in 1996 by Aaron Dworkin, later President Obama's first appointee to the National Council on the Arts. The organization works to bring diversity to the arts, particularly among African-Americans and Latinos, and this concert features works by prominent African-American and Latino composers such as Coleridge-Taylor Perkinson and Alberto Ginastera. The group plays at an extremely high level, and it's a great way to support diversity among string players, which is lacking, still, today.
London Symphony Orchestra
Avery Fisher Hall
October 22
Violinist James Ehnes, who performed the Tchaikovsky Violin Concerto this summer as part of the New York Philharmonic's Concerts in the Parks series, returns to New York to perform Brahms's Violin Concerto at Avery Fisher Hall with the London Symphony Orchestra in this all-Brahms program. The Canadian violinist's mind-boggling technical abilities, combined with his musicality, make him one of today's strings stars and most in-demand soloists. Valery Gergiev conducts the program, which includes Brahms's "Tragic Overture" and Symphony No. 2.
The Philadelphia Orchestra
Stern Auditorium/Perelman Stage
October 23
Yannick Nézet-Séguin makes his first appearance at Carnegie Hall as the orchestra's music director in a performance of Verdi's "Requiem," with soloists Marina Poplavskaya, Christine Rice and others. The orchestra is the purveyor of that hard-to-describe Philadelphia Sound, but has also become the face of so many of the country's similarly financially strapped performing arts institutions, and it was good news when it announced in late July its official emergence from Chapter 11 bankruptcy protection. The "Requiem," first performed in 1874, on the anniversary of the death of one of Verdi's friends, seems in opposition to the future the orchestra hopes to forge after a difficult reorganization.
The Tokyo String Quartet
Zankel Hall at Carnegie Hall
October 28
The Tokyo String Quartet, on its farewell tour, plays works by Webern, Mozart and Mendelssohn at Zankel Hall as part of Yale in New York. After 44 years together in various iterations, the quartet has decided to call it quits, following the previously announced retirements of Kikuei Ikeda and Kazuhide Isomura—second violin and viola, respectively. The 2012-2013 season will be full of opportunities to celebrate the quartet, including concerts at New York's 92nd Street Y. So dry your eyes and come bid adieu.
Orchestra of St. Luke's
Stern Auditorium/Perelman Stage
November 1
MacArthur Foundation Fellow Alisa Weilerstein performs Haydn's Cello Concerto No. 2 with Orchestra of St. Luke's on this program, which also includes Mozart's Symphony No. 29 in A Major, his "Chaconne from Idomeneo" and Haydn's Symphony No. 99 in E-flat Major. Like several other New York-area orchestras, Orchestra of St. Luke's has been at the forefront of branching out—through its educational programs and outreach and artistic pair programming—while still managing to pair with blockbuster artists like Ms. Weilerstein, herself a jewel.
Ensemble ACJW
Our Saviour's Atonement Lutheran Church
178 Bennett Avenue, Manhattan
November 11
Launching a career as a young professional musician isn't easy, even when you're at the top of your game. Once every two years, the Academy—an invention of Carnegie Hall, the Juilliard School and the Weill Music Institute—selects as many as 20 young musicians from around the world as fellows. Some past and current members of the Academy make their way into Ensemble ACJW. The Academy is run in partnership with the New York City Department of Education; its members teach in city schools. Ensemble ACJW brings high-caliber music to segments of the city that might not always be exposed to it. This concert, part of the Voices from Latin America festival, features music by Villa-Lobos, Piazzolla and Ana Lara.
The Cleveland Orchestra
Stern Auditorium/Perelman Stage
November 13
The Cleveland Orchestra, one of the original Big Five Orchestras, returns to New York with a performance of works by Beethoven and Scriabin. The program also includes the New York premiere of Matthias Pintscher's "Chute d'etoiles" for two trumpets and orchestra. The beloved orchestra comes to New York probably about as often as Mr. Pintscher, who has made the city his home for several years but is often pulled away for other engagements.