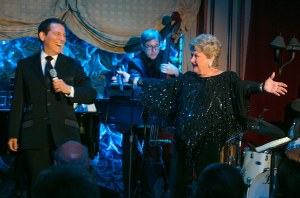 A badly needed four-week vacation followed by a busy week seeing five films a day at the Toronto International Film Festival has left me way behind in telling you about Michael Feinstein and Marilyn Maye's tuneful contribution to the final season at Feinstein's at Loew's Regency. If you haven't joined the party yet, there's one more week to go. What are you waiting for?
Duo acts rarely work in clubs, which is why there are so few of them. Solo artists have their own agendas, which often get in the way of sharing. Few can be considered team players. Voices don't often blend, material is at loggerheads, and love—as in tennis—means no points scored. You won't find any Jackie and Roys, no Steve and Eydie. So all hail this amazing pair whose far-flung ages might be generations apart (singing kid and hip grandma?) but whose keen chops and communal passion for tasty songs are without boundaries. They call their show "Swingin' The Night Away," but if there's a theme, who cares? One constant caveat I have about Feinstein's is the sound. No matter what kind of money they spend on sound equipment, the place has never found an acceptable stereo balance, and to quote a favorite composition by Burton Lane and Alan Jay Lerner, it's too late now. When the mike shrieked with feedback, Michael said "We have Michael Buble on sound." The man always thinks on his feet. He also takes requests, and unlike inferior poseurs who have done the same thing, sometimes honors them. (Don't ask for "Send in the Clowns" or "Strangers in the Night," but Cole Porter is always a sure bet.) Cleverly, he adds "What I'm going to do next has some of the same notes." He knows how to win over an audience, turning potential hecklers into fans.
It takes a bit to get going, but by the time this terrific twosome join forces like a pair of horns on "It's a Most Unusual Day," we're back at MGM in 3/4 time. On "Hello, Dolly!", which he used to perform as a kid at bar mitzvahs and weddings, Michael displays an astoundingly accurate mimicry of Louis Armstrong. I hope I never hear that ossified chestnut again, but to hear him do it once is like a party favor. Marilyn Maye is like the party itself. Her finesse as a master interpreter of lyrics is deliciously evident on "Every Time," the great Martin-Blane ballad from Best Foot Forward. Together they bring untarnished creativity to a medley of songs with "wonderful" in the title ("It's a Wonderful World," "Something Wonderful," "Mr. Wonderful," "S'Wonderful," etc. The idea is pretty wonderful, too. Everybody's doing tributes to Marvin Hamlisch, just one of the many musical talents we lost this year, and Michael's intense needlepoint on "The Way We Were" put a lump in everyone's throat.
Liza Minnelli, who was in the star-spangled audience, yelled out Irving Berlin's "I Love a Piano," which her mother sang in Easter Parade. The arrangement that poured forth from pianist Tedd Firth and his merry band of ace musicians showcased a variety of musical styles, from Kansas City to Gershwin to Jerry Lee Lewis. Ms. Maye cooked up her own unique brand of rhythm on the range, from "Boogie Woogie Bugle Boy" to the intricate flatted fifths in tempo on Dave Brubeck's "Take Five," a jazz aria almost no singer has the courage to try for fear of failure. She never fails. Solid and versatile, she's capable of smoldering sensuality, bluesy waltz-time bravura and swinging sass, while Mr. Feinstein's voice gets stronger all the time, making it possible to do justice at last to complex songs from West Side Story by Leonard Bernstein and Stephen Sondheim, as well as the sweeter muses like Rodgers and Hart.
This remarkable couple might seem mismatched on the downbeat, but oh the encores! They close Sept. 22, so get there fast and jump for joy. It's a show that leaves no stone unturned as they shake all the bugs out of all the rugs. Long after Feinstein's closes at the end of the year, this is an act you'll remember.
rreed@observer.com