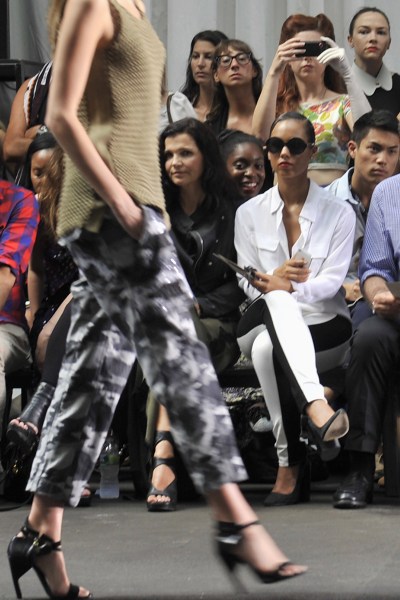 It's not every day that you discover a makeshift organic fruit and cider farmer's market stand outside a fashion show. But that's precisely what had been constructed outside Skylight at Moynihan Station at EDUN's spring 2013 runway presentation this past Saturday afternoon. Breezy Hill Orchards of Staatsburg, New York was stocked with the dozens of varietals of pears and apples freshly picked. Before the show, sweaty fashion editors, stylists and buyers could take a refreshing sip of apple cider. It was a smart pairing considering that Edun, which was founded by Ali Hewson and U2's Bono, works with African manufacturers to give them an economic boost. Naturally the majority of attendees beelined it to their seats, but The Observer gulped down a bottle before the show.
Seating was a bit frenzied and the arrival of songstress Alicia Keys didn't help, but eventually we took in the Mali and safari-chic theme of Edun creative director Sharon Wauchob's collection, with etched florals, mud-dyed cotton and silk and military accents.
"At Edun we believe that real style has substance. We founded the company to bring trade to Africa," explained Ms. Hewson. "This season we are proud to say we are on track to reach our goal of producing 40 percent of the collection in Africa."
Commerce-for-developing-nations-mission accomplished.
"We [EDUN] loved the idea of working with an organic farmer's market stand. We wanted to do it last season, but the weather was so harsh the day of our show!" Ms. Hewson told The Observer afterward.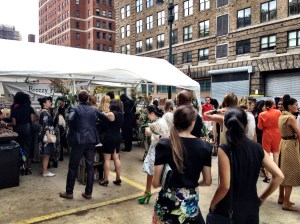 "September is the perfect time to enjoy the fruits of our surrounding farming community and of course, in EDUN, apples are close to our hearts."
To The Observer's chagrin, once it became apparent that everything at the farm stand was gratis, the crowd dove like hawks attacking prey. Grabbing bags of apples and even scarfing down homemade doughnuts. It's a rare sighting to behold the fashion frenzy nibble even raw almonds or a Fiber One bar, but doughnuts? Impressive!